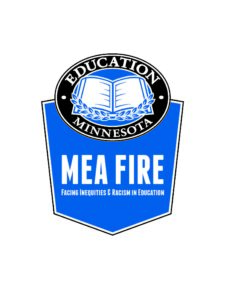 Education Minnesota's Racial Equity Advocate program is now in its third year of training members to serve as an ally and resource in developing an anti-racism growth mindset in local unions and school districts.
"REA was an opportunity that opened doors for me," said Natalia Benjamin, an English Language Learner teacher in Rochester who participated in the second cohort. "Professionally, it gave me knowledge and tools I could use to advocate for students, and to promote curriculum that teaches all students. The network of other educators that now are a support group is the best resource for educators in Minnesota. The REA cohort allowed me to connect with educators all over the state and to become more active with the union. It has also opened doors to other professional development through Education Minnesota and the NEA."
Each year, the cohort meets as a group four times. But members are encouraged to collaborate throughout the year and also work on ideas that they can bring back to their local unions and school districts.
"We started with a (restorative) circle in cohort 2," said Jason Ortiz-Crespin, a teacher in Burnsville. "I started a circle pilot program in my school district. I'm piloting it in my classroom and I have psychologists and admins come in and observe it and give feedback. I'm a special education teacher. It's hard to get my population of students to share out. I hope to grow this now that it's becoming more known. I'm getting more help from my union and doing more research on it."
Applications for the next year's cohort open at the end of the summer or early fall. Learn more about the program and when the application window opens at www.educationminnesota.org/resources/minnesota-educator-academy/MEA-Fire.