In the last two months, educators across Minnesota have taken their classrooms and moved them into online spaces, delivered paper materials and internet hotspots and made sure their students were well and felt safe.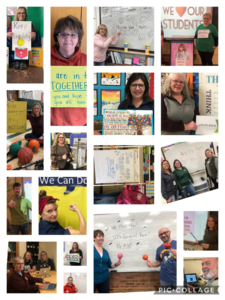 "We will keep educating students and building relationships in every way we can," said Education Minnesota President Denise Specht, after the governor announced distance learning will take place through the rest of the school year. "We will make sure students have healthy food and the children of essential workers have a safe place to go during the day. We will take care of our students' physical and mental health as we have in the past. None of this will be easy, but the educators of Minnesota are up to the job."
With traditional graduation ceremonies canceled this spring, many educators have found new and creative ways to celebrate their seniors.
In Fergus Falls, band instructor Scott Kummrow recorded himself playing over 22 different parts in the song, "Pomp and Circumstance," including conducting himself. He edited the video and shared it with his school's seniors.
Lawn signs, social media posts, videos and light pole banners are just a few other ways educators are making sure seniors are feeling special without their traditional goodbyes.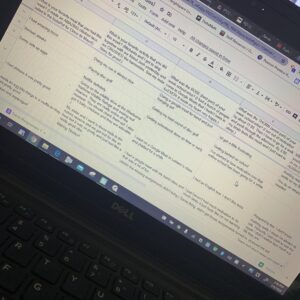 For Julie Beaver, a math teacher at Zimmerman Middle/High School, it's not just about teaching algebra, but making sure her students are doing well during this time.
Beaver sent out a spreadsheet just as a quick "check-in" to current and former students asking what their favorite meals have been and how they have been keeping themselves active and happy. She received numerous responses. Beaver shared a photo of the spreadsheet on social media using the #morethanjustmath.
Educators are also trying new ways to still do their classes' traditional in-person work and celebrations.
In Waconia, third grade teacher Josh Sell teaches a unit on immigration and Ellis Island. He normally holds a night where families come in and students portray immigrants coming through Ellis Island. This year, he hosted the evening on Zoom and families and students were still able to share, and even dress up, to show what they have learned.
Waconia teacher Josh Sell hosted his annual immigration night with families over Zoom instead of in person. The event features students researching and sharing how immigrants entered through Ellis Island.
Parades of educators in cars, driving through their schools' neighborhoods, have become a fun way to connect with students and families.
In Plainview-Elgin-Millville, the school communities are so spread out through the rural area that the parade took three hours to complete.
But elementary physical education teacher Kimberly Ihrke said it was such a mood booster for the educators who are missing their students that it was worth that length of time.
Minnesota State College Faculty have been transitioning to virtual labs, with some also keeping in-person classes for those that need to receive hands-on lessons.
While educators have been doing amazing things, Specht also acknowledged in May the challenges this pandemic has made even more apparent.
"Distance learning is putting incredible stress on parents, students and educators," she said. "It's widening disparities by wealth, race and geography. I hope educators can use these last few weeks to wind down the academics while increasing attention on the mental and emotional health of our students. At the same time, we need to plan for addressing the inequities this crisis has made even worse."
Many school nurses are joining hospital staff on the front lines due to the need for staffing. Others are making house calls to check in on students and help treat the children attending school-based child care.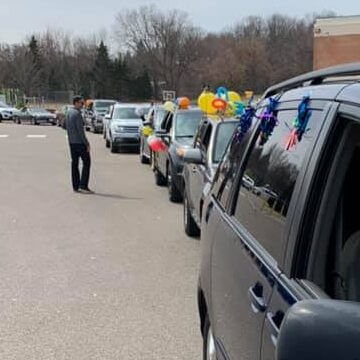 The pandemic has made the inequities in access to broadband internet more apparent than ever, both for students and for educators.
In a press conference with Gov. Walz about what is happening in education, Angela Forland, a third grade teacher in Spring Valley, said her internet connection is so poor it crashes around 7 a.m. every morning. She tries to use a mobile hotspot, but can't load videos or assignments. Her third grader gets up at 5 a.m. to try to get internet for schoolwork when the network is less busy.
At Pine City High School, hundreds of students are on a "no internet available" list. Art teacher Laura Strand testified in front of the Minnesota House of Representatives that she loses hours of her own work daily and cannot upload documents due to poor connectivity.
For Intermediate School District 287 math teacher Glazell Toledo, her students don't have time for distance learning because they're working extra hours or caring for siblings. And because their families lack access to health care there is an extra level of stress in their world.
Toledo has also spoken publicly as an Asian-American about the racism she has felt during this pandemic.
Lindsay Peifer, who is a technology integration specialist in St. Paul, also spoke about this issue with the National Education Association. Peifer also believes educators must take responsibility for protecting vulnerable students.
"Educators need to be really open and transparent in how they are modeling for their students and community," says Peifer, who is the secretary of NEA Asian and Pacific Islander Caucus. "We need to lead with love and kindness and … take a stand that racism has no place in our community."