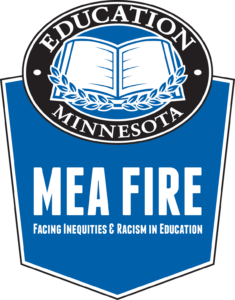 What is MEA FIRE?
The Minnesota Educator Academy's member-driven program for Facing Inequities and Racism in Education aims to disrupt systemic racism and racial inequities in Minnesota's education system. The FIRE program leads Minnesota's educators in a movement to live equitably and practice recognizing and responding to inequities and injustices.
Program components
Racial Equity Advocate network
Over 100 educators from around the state are currently active in our Racial Equity Advocate (REA) cohort network. These highly trained, equity-literate educators work with Education Minnesota staff to:
Deliver professional development and facilitate community learning experiences related to racial equity.
Participate in conflict resolution and restorative justice efforts within school and district communities; these efforts may include colleagues, administrators, local leaders, parents and students.
Serve as a supportive peer for colleagues who are working to develop an anti-racism growth mindset.
Lead equity teams/cohorts working to dismantle systemic racism at the local level.
Interested in joining our REA cohort?
Professional learning
Race Equity EdCamp
EdCamps are organic, participant-driven professional learning experiences for educators across the country and worldwide. During an EdCamp, organizers set the schedule for the day but participants determine all sessions on the day of the event. Everyone is welcome to propose and lead a session where conversation and collaboration are paramount. You can learn more about how EdCamps work by visiting www.edcamp.org.
Members and staff of Education Minnesota are available to help you host a Race Equity EdCamp in your region.
Racial equity trainings available on MEA Online:
Culturally Responsive Teaching With A Racial Justice Lens
Cultural Competency (a four-part equity training that satisfies the cultural competency relicensure requirement)
Interrupting Whiteness
*this list continues to expand – please check with your local leadership for the full list of equity-based professional development opportunities.

Questions about MEA FIRE, becoming a Racial Equity Advocate and/or professional learning opportunities? Contact: