The power of our union
Educators are powerful when we have a collective voice. Working in union gives us the power to make meaningful improvements for students, our profession, public education and our communities.

Unfortunately, corporate interests and the wealthy want to rig the economy in their favor and weaken the voice of workers. For decades, they have tried to destabilize unions through anti-worker legislation and court cases.

That's why it's so important for educators to choose union – we have more influence when there are more of us.
Why belonging to Education Minnesota matters
A voice for public education

Our voices are elevated and heard when we join together as Education Minnesota. Educators should have a seat at the table when decisions are made about our classrooms, schools, campuses, profession and public education because the only people who know more about what students need are their own parents.
An advocate for your career

Minnesota educators enjoy better pay, pensions and working conditions than educators in many other states because previous generations of educators collectively fought for them. Teachers who work in states with weaker unions earn $7,609 less on average than Minnesota teachers.
A place for professional growth

Educators value and promote quality professional development. Being a part of your union means frequent, diverse and valuable training for educators, by educators. Education Minnesota staff, member trainers and experts offer hundreds of free or low-cost professional development opportunities across the state.
Champion for our students and communities

Those who want to weaken unions want more power in the political process. Unions have fought for the rights of all Minnesotans, and we still have the responsibility to help alleviate the racism, discrimination and income inequality that hurt our students, families and communities.
Why I choose union
You union is a place for you to come together with other educators to improve not only your pay, benefits and profession, but the lives of your students and families.
Listen to fellow educators from across the state talk about why they value belonging to Education Minnesota, choose union and believe in the power of a collective voice.
Attacks on unions and public education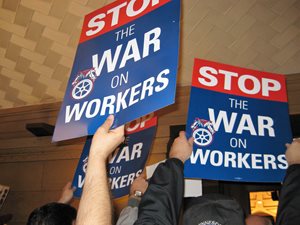 On June 27, 2018, corporate interests won a politically motivated case in the U.S. Supreme Court. The 5-4 decision in Janus v. AFSCME makes it harder for working people to join together in strong unions to build better lives for families and communities.

Janus allows public sector employees to enjoy the benefits of a negotiated contract without paying for it and is the culmination of decades of attacks to try and financially destabilize labor unions.

By many measures, quality of life is worse in states with weaker unions. The result of "right to work" is this: Unions are dismantled. As a result, wages are lower, and people are less likely to have health insurance and the necessary resources for a quality education.

The attacks can happen fast. In Iowa, anti-union lawmakers decimated collective bargaining laws in 10 days. And the ramifications can be devastating to the profession. In Wisconsin, teacher compensation plummeted $10,483 within four years.
How it's playing out in Minnesota
Education Minnesota is engaging members to fight back and keep our union strong, and more educators are choosing union than ever before. But the anti-union attacks continue.
Right-wing talking heads and the people who pay for them will try to twist the facts about union membership, dues and political activity. Here are some organizations to watch for and their agenda, including the Center of the American Experiment and Educated Teachers MN and the Freedom Foundation's Opt Out Today.
Shop your values!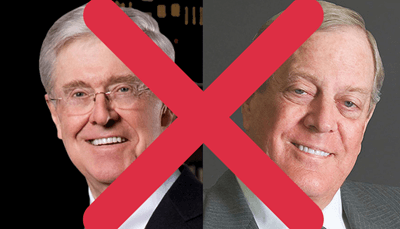 There's a good chance the anti-union Koch family is making money off what is in your weekly shopping cart.

The Kochs have used profits from their business empire to fund initiatives aimed at undermining or destroying public education and organized labor and funding like-minded candidates for office.
Spending money on union-made, "Made in America" products is an act of solidarity that promotes good jobs, healthy workplaces and workers' rights.
More info below:
Shop union-made
Spending money on union-made, "Made in America" products is an act of solidarity that promotes good jobs, healthy workplaces and workers' rights.
Labor-endorsed boycotts
When some labor disputes with businesses can't be resolved, the AFL-CIO supports its affiliates by endorsing their boycotts. A boycott is an act of solidarity by voluntarily abstaining from the purchase or use of a product or service. Current list of AFL-CIO boycotts
Say NO to the Koch Brothers
There's a good chance the anti-union Koch family is making money off what is in your weekly shopping cart.
Seek alternatives to these brands/products whenever possible:
Angel Soft
Brawny paper towels
Dixie products
Local leader resources
Member engagement is crucial to the work we do. This is especially true for our newest members. Many of them are stepping into the classroom for the first time and are looking to their more veteran colleagues for tips, advice and guidance. The union can, and should, play a big role in fostering that relationship.
Visit the link below for local leader resources to engage members on the power of our union and issues they care about, from classroom management to education debt.