What is Education Minnesota ESI Member Benefits?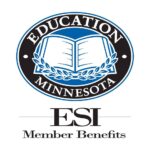 Education Minnesota ESI Member Benefits strives to make life better by empowering you to:
Protect yourself and your family through sponsored financial and insurance programs.
Plan for your future whether you are a brand new educator or enjoying retirement.
Maximize your hard-earned dollars with discount and saving programs.
How can it help me?
Members often find that sponsored programs provide better value and service than those available to non-members. In fact, by participating in a variety of programs, members often save what they pay in union dues.
What programs and services are available?
National benefit programs
Because you are a member of Education Minnesota, you are also a member of the National Education Association (NEA) and American Federation of Teachers (AFT). Therefore, members are eligible to use products and services sponsored by NEA Member Benefits and AFT+ Member Benefits as well.
AFT+ Member Benefits
Insurance, shopping discounts, credit cards, legal and financial services, scholarships
AFT Attorney Referral Program (Union Plus)
Personal legal services
AFT new member no-cost life insurance
$5,000 in term life insurance free for new members
AFT+ insurance programs
Term life, disability income and long-term care insurance
NEA Attorney Referral Program
(requires NEA login)
NEA Complimentary Life Insurance
Education Minnesota Economic Services Inc. (ESI) is at the forefront when it comes to providing top-quality member benefit programs. With more than 70,000 members and affiliation with the American Federation of Teachers and the National Education Association, ESI enhances the economic status of Education Minnesota and its 84,000 members by providing programs of exceptional value.
Contact us
Education Minnesota ESI Member Benefits
41 Sherburne Ave.
St. Paul, MN 55103
651-292-4856, 800-642-4624
Fax: 651-292-4815
esi@edmn.org