The 25 preschool teachers in the South Washington County School District were included in the teacher bargaining unit, until they weren't.
For over 20 years, this group were members of the United Teachers of South Washington County and paid on the salary schedule. In 2018, that changed when the district decided not to require a license to teach preschool in the district, which then removed them from the bargaining unit.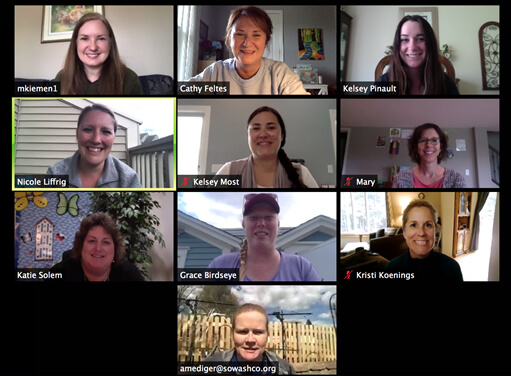 Without hesitation, the teachers called the union president and said, "What can we do?" and got to work on a plan.
Because of their commitment to their union and their display of courage, the preschool teachers of South Washington County are Education Minnesota's 2020 We Are One Solidarity Award winners. This award honors members or groups who actively promote union solidarity.
"They never said, 'Oh we're fine on our own,'" said Marty Fridgen, UTSWC president who nominated the group.
Changing one word, from "required" to "preferred," in the licensure requirement for preschool teachers is what removed them from the bargaining unit in June 2019.
"We couldn't be part of the union if we weren't considered teachers," said Angela Sell, a preschool teacher of 11 years.
It wasn't just removing them from the union that felt like a blow to the teachers, it was the feeling that the district didn't value their license and what it took to get it.
"I take pride in being a teacher and having that license," said Nicole Liffrig. "I take pride in saying that I'm an Early Childhood teacher."
"It was a hard pill to swallow," said Sell. "We had worked for five years to get into the teacher bargaining unit. As most districts are adding Early Childhood Family Education teachers to their bargaining unit, we're getting kicked out."
"And we never really heard a reason why," said Cathy Feltes, an 18-year South Washington County preschool teacher.
But the teachers got right to work.
"We had a long road of fighting it and going to board meetings together, arguing our importance to the board," said Sell. "That was to no avail."
If they weren't going to get back into the current bargaining unit, the teachers decided they would make a new one.
The group filled out their cards for the Bureau of Mediation Services to say they wanted to become their own bargaining unit, as part of the UTSWC.
The district tried delaying their vote to authorize the union, again saying that they can't call themselves teachers.
"In the end, the ruling by the BMS agreed with us and stated that 'preschool teachers' is the correct name for them," said Fridgen.
In October 2019, the teachers voted to form their own unit.
"The vote was 100 percent," said Feltes.
The group currently has a short document that says most teachers are grandfathered in and are working under the previous pay and benefits structure, but anyone hired in the last year is not. They will work on bargaining a contract that gives them the salary, benefits and working conditions they had when they were with the licensed teacher bargaining unit.
"To me, it was inspiring that they knew what a union meant and that we were going to be better together," said Fridgen.
"For our group, it gave us a sense of solidarity," said Feltes. "We were a strong group of teachers before, but this has made us stronger."
The teachers plan to not only settle a contract, but work on the legislative fix that would allow all ECFE, as well as adult basic education, teachers, to receive continuing contract rights.