President Denise Specht and Secretary-Treasurer Rodney Rowe took office for a third three-year term July 1. They are joined on the leadership team by new Vice President Bernie Burnham. The Minnesota Educator sat down with the union's leaders to discuss their vision for the next three years.
Minnesota Educator: What can members look for as the new team takes office?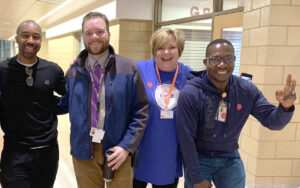 Denise Specht: A new team offers an opportunity for new perspectives, new visioning and a reintroduction of our union and our leadership team to our state. Members and locals can continue to count on the support and resources that Education Minnesota has always been providing. I think what they can also expect are more visits and getting the new officer team out to locals to introduce Bernie and get a really good understanding of how we can best serve our members in the next three years.
Bernie Burnham: I do hope to bring a new perspective. When talking to locals, I will be able to say, "I just did that." I hope to have that connection with people. It's very exciting. I can't wait to get out to all the corners of the state.
Rodney Rowe: I think since last year with the Janus decision, there is a lot to be learned. Things are different. We want to continue to hear from members about how we can help them build a strong local. That is really what the union is—building your local to be the strongest it can be. There have been lots of new changes and I know the members will have lots to share with us, as well.
ME: What are your biggest hopes for the next three years?
DS: I was really proud of the work we did leading up to the Janus decision, and I was even more proud of the outcome. We are going to see drop campaigns continue. We are going to see the wealthy billionaires behind the Janus case continuing to drive an agenda that is meant to silence workers, weaken our voice in the workplace and at the Capitol.
Our members are choosing union. Unions are cool again. We have to continue to engage our new hires. We need to make sure our locals have a plan around having a conversation around standing in solidarity together.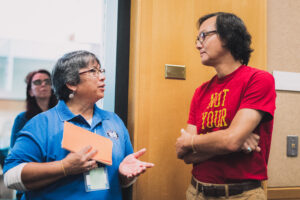 BB: We need to continue to share our story about why we are in the union and why we are in this work. It's about telling your story about why you are doing this work and why it's so important. Beyond students and staff, what we do for our communities as a whole when we are strong. I am excited to share how we did this in Duluth and how others can be successful in sharing why unions are important.
RR: Our members in Minnesota embrace challenges and take them head on. The solutions are out there and our members will rise to the challenge to how we can remain a strong union. I look forward to hearing from them and looking at all of the good things we learned from last year and how we can build on them to create a strong union.
ME: What have you been most proud of, and hope to continue working on?
DS: One of the priorities that I had when I was first elected president was that the educator voice was strong and that we had as many educators out there at decision-making tables and talking about what is going on at their worksites, on their campuses and what students need. Having an army of spokespeople has been really important. We have Education Minnesota members sitting at the highest levels of decision-making power in the state, to members sitting on district taskforces, on county commissions, professional standards boards and everything in between.
We also started a conversation this session about what fully funding schools really means. My hope is that we continue to call that out, what we can do with that and how we can get there.
BB: The political action piece has been the most exciting thing in the last few years. Our job is political, period. Everything that happens at the state and federal level affects what we do here. We know what we do every day, and we need to remind people that we are educators, and we need to vote with that hat on. If we don't do what's best for children, get them educated and have our schools fully funded, then none of us are going to bode well. We had more people step up and be engaged in the last year and I hope that only continues.
RR: In the last few years, we started saying we need to "raise our voice." And our members are really stepping to the plate to raise their voices. I think of all the various events that we have and seeing that our newer, younger members are coming and are engaged and asking how I can use my voice?
Since we have started our student program, we have reached out to them, getting them excited about the profession and about the union. How can we continue to use our voice and be at the table all the time to make sure we are getting our students what they deserve?
ME: What are you looking forward to working on most?
DS: We are a union that makes ourselves better. We offer a lot of professional development and training that I hope we can make more people aware of, because if we aren't taking command of our own profession and improving the work that we do together, I don't know who will.
Our racial and social justice and equity work is absolutely important. Unions have always been part of the civil rights movement. I believe the racial and social justice issues of today will be the union's bread and butter issues of tomorrow. Because the bread and butter issues that we're talking about right now at the bargaining table were civil rights or equity issues back in the '70s when my parents were teaching.
BB: How can we continue to help our members be aware of how we can be better prepared in the classroom? I'm a big proponent of full-service community schools, coming from Duluth where we have three of them. How can we continue to strengthen that program? It's hard work, but it is exciting work.
RR: There is so much that we do professional development-wise that is so critical. We have learned so much about the importance of the one-on-one conversation. We have learned that the start of everything is that face-to-face interaction. I'm so proud of all of the members who are out there all the time telling their story.