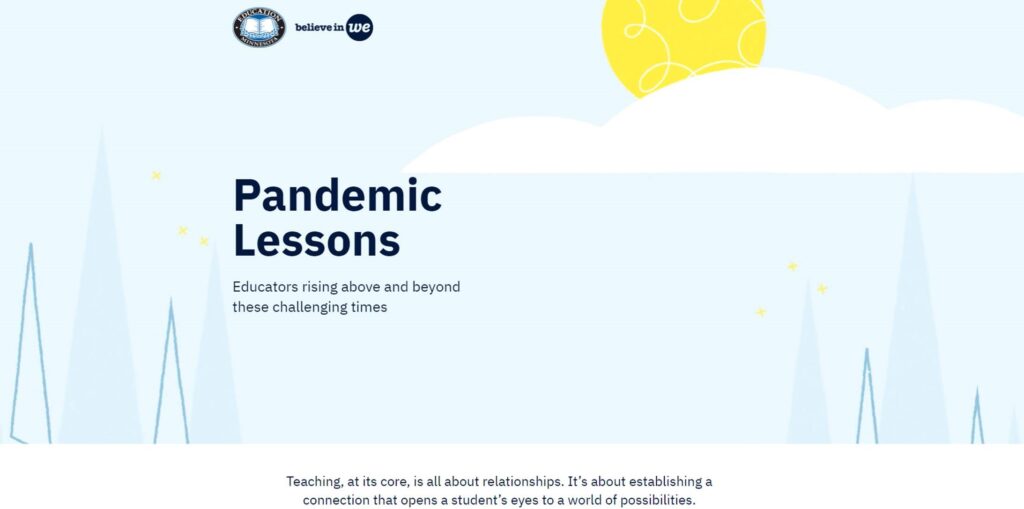 The latest phase in Education Minnesota's "Believe in 'We'" paid media campaign is a series of new ads that began airing online and on statewide television.
The new phase is titled "Pandemic Lessons," and the ads feature educators across the state who have found ways to persevere and find creative ways to create community in their classrooms during these trying times.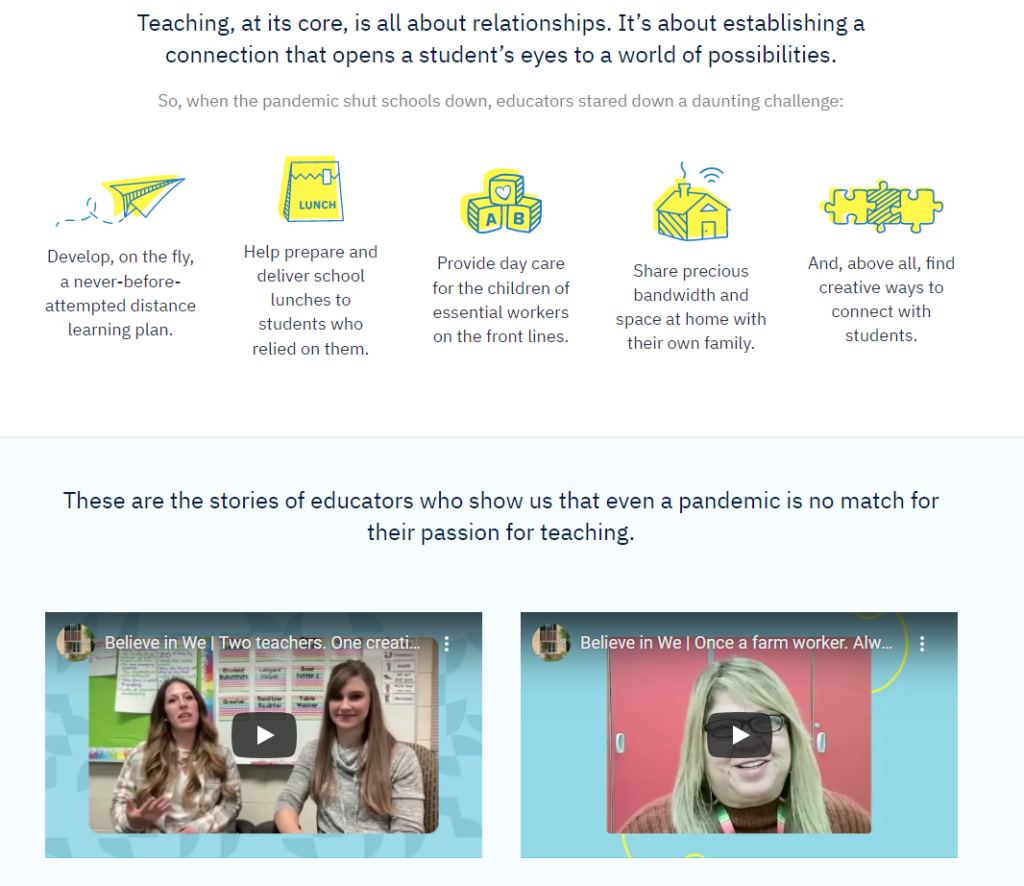 The ad campaign is meant to be a parallel to the "At a Breaking Point" media tour. Education Minnesota knows the importance of sharing out the unsustainable working and learning conditions our members are facing this year, but also believes we need to celebrate the amazing work that is happening in spite of that—because of the dedication and resilience of educators.
These ads will also appear on social media, on video sites such as YouTube and various targeted websites. The ads will drive viewers to the campaign website, www.BelieveInWeMN.com, to watch longer videos telling the stories of the good work our members always do.
Featured in the new ads are educators from across Minnesota, including elementary teachers who found ways to build school community virtually and an elementary teacher who brings her own life story into her classroom.
At the start of the pandemic, Spring Lake Park teachers Maggie Lee and Theresa Phillippo started talking about how to connect with not only their own students but the entire school when they couldn't physically be in the same space.
The Northpoint Elementary School teachers created a "Masked Reader" video series where each week a school staff member would have an emoji over their face and read a book that was shared out on FlipGrid. Students would then record their guesses to who it was, and could watch and respond to each other on the virtual platform about who everyone thought was the reader.
"We would get 80-90 responses in a matter of hours of releasing the videos," said Lee. "That's what they needed. We had to come in with the positive attitude of 'at least we're still together,' and focusing on what we still can do together and not what we can't."
"This was our way of not only continuing the fun that we always have had," said Phillippo. "But making sure that they continued to see smiles on people's faces."
Lee and Phillippo also created a Northpoint's Got Talent program where students filmed themselves doing something at home, and the school watched the videos together and voted.
In another video, Rochester teacher Criselda Martinez shares that creating relationships with her students even though they couldn't physically be together was her biggest focus during the pandemic.
"We would have 'cafécito con compañeros' which means coffee with companions," she said. "The children didn't bring coffee but a morning drink. The kids simply just wanted someone to talk with."
Martinez had virtual field trips and even virtual dance parties to help stay connected with her students, which also strengthened their relationship, as she was able to see more into their personal home lives and meet their families and pets.
"I want my students to take with them the love of the language, the love of acceptance and being who they are and who they can be," she said. "I want them to take the knowledge they have acquired and take it with them in all aspects of their lives."
More videos will be released throughout the next few months featuring more educator stories, such as Luke Becker, an agricultural science and technology instructor and career and technical education coordinator at Braham High School ,who brings students ideas to life in big ways; Timothy Ray, an education assistant in Minneapolis who brings his own life experiences to his work; and Elizabeth Averbeck, a human geography teacher in Kasson-Mantorville who brings learning about the world and our commitment to equity into her classroom in exciting and engaging ways.
See all of the videos at www.BelieveInWeMN.com, and share them on your social media channels to highlight the amazing work of educators throughout Minnesota.