The paraprofessional staff in Rochester voted to join Education Minnesota in 2018 and have now settled their first contract, receiving a retirement benefit match for the first time and about a $1 an hour pay increase.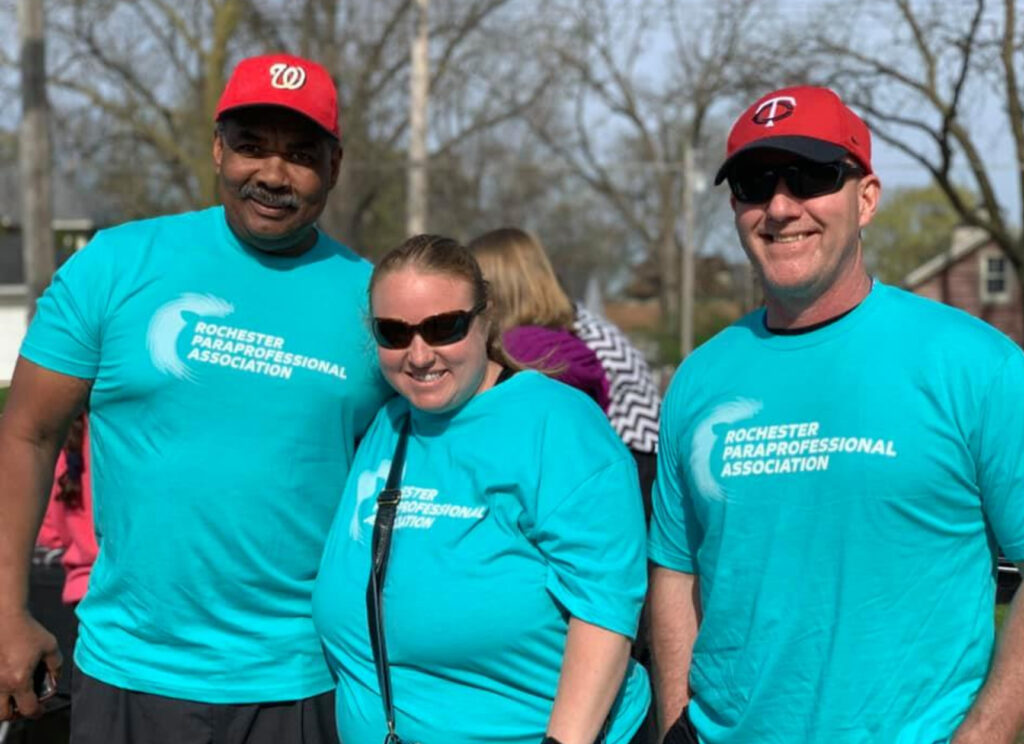 "It's a great start," said Laura Denney, a paraprofessional who served on the negotiations team for the Rochester Paraprofessional Association. "For years, we have not gotten what we deserve. I hope we can create a new relationship with the district that they see us as professionals and valuable and be compensated in that way."
In addition to the 401(k)/403(b) match and the pay raise, the contract also gives them two seats on the district's professional development committee, which they never had before, and some important language around safety.
Before joining Education Minnesota, the unit had negotiated with the district but they didn't ever feel they had much power at the table.
"Before, we didn't do any prep or training," said Lauren Allen, a paraprofessional who had negotiated previously and served on this negotiations team. "We kind of just showed up."
As a local of Education Minnesota, the negotiations team received training and had three staff people—their field staff, an organizer and a negotiations specialist—with them throughout the entire process.
"The district wanted us to make sure they knew we were powerful," said Denney. "But with Education Minnesota there, we knew we were powerful too."
Previously, they would just have to take the district at their word when they were presented with a proposal, said Allen.
"We never had data to back us up before," she said.
The district and union met many times and entered mediation before reaching an agreement.
"We definitely got way more than what we did in the past," said Allen. "We got about $1 an hour for every member. Usually, we would get 11-12 cents. I don't think we would have gotten that without mediation."
Throughout the bargaining process, the local was signing up members and engaging them in activities to support the negotiations team.
"The settlement committee worked really hard to get members all throughout this year," said Janel Monson, a paraprofessional who previously served as the union president. "We're at 53 percent now, and we'll start back up this year to get even more members signed up."
The settlement committee hosted social events, ordered T-shirts and organized members to attend a board meeting.
"We had never done anything like that before," said Monson.
Monson said the group is working hard to get a union representative in every building.
"My building is at 99 percent membership," she said. "They are there when you call them. They show up at meetings. We want that everywhere."
"As members that have now gone through this, we need to express to people who aren't members, how much of a difference that this union had made," said Denney.
The union also worked hard on engagement with members around voting on the contract.
Because it was summer when the vote took place and they wanted to make sure everyone had a chance to vote on the contract, leaders knew they had to try something different. They used online voting software and shared links with people, walking them through the process if need be.
"It saved us money and was mostly well received by members," said Michael Baumgartner, the new union president. "We even had a member vote from Japan while on vacation. Efficiency and technology will save us our hard-earned money, and bring our local into the future."
It took about a year to settle the first contract, so the local will be back at the table again soon.
"We'll still keep working toward a living wage," said Allen. "The district has acknowledged that they have a problem with attracting and keeping paras. Our point is that it's the pay. They know that too, but they seem to think they can't get there."
"The district is doing a lot of outreach in the media to hire. There are 65 openings (at the start of the school year)," said Denney. "We can use that as a bargaining chip."