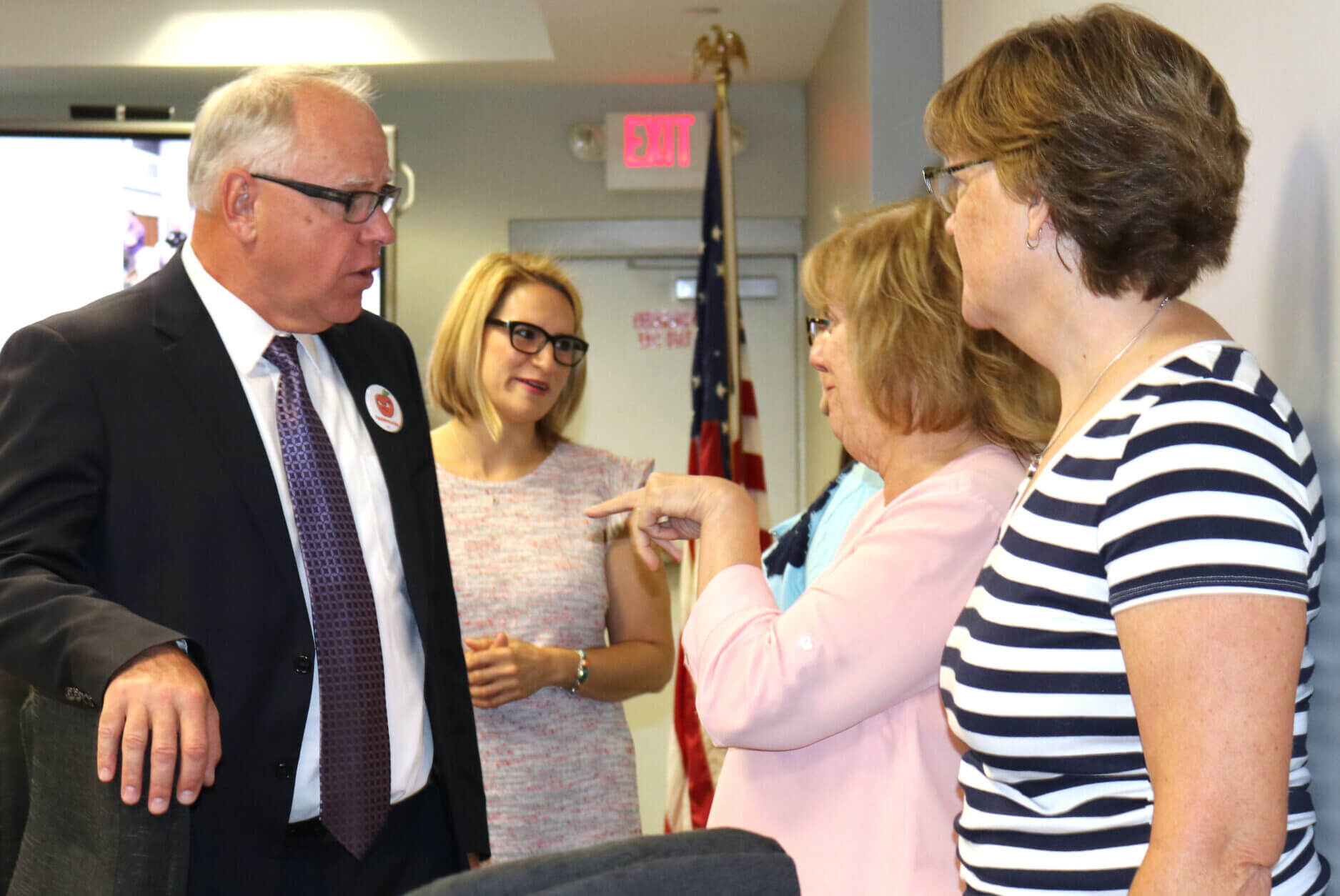 Kim Davidson says that to her, union work has become like breathing.
"I don't even think about it anymore," she said. "I just do it. It's such an important part of who I am and what I believe in."
Davidson's commitment in her more than 30 years in education and union advocacy is what made her Education Minnesota's 2021 Peterson-Schaubach Outstanding Leadership Award winner.
"I got involved with the union because I thought it was time for me to give back," she said. "You do things without thinking they are anything special. I care about my colleagues. I care about the students I work with. If I'm able to be their advocate, their voice, why wouldn't I do that?"
Davidson has worked in Crookston for 27 years, and has held numerous leadership positions within her local, as well as her intermediate organization and Education Minnesota.
"Whether it's coming to bat for a specific teacher or helping with negotiations, she solidifies the membership and gets us through all of those things, making sure we're all OK," said Sara Geist, a teacher colleague in Crookston. "She is a champion for her colleagues. She has represented us at all levels."
Davidson started her career in the district she grew up in, Anoka-Hennepin. That is also where her union activism began, thanks to an invitation from a colleague.
"I was asked to give the strike authorization vote for Anoka. It really hit home, what they had done during those years when I was still in college, enabled me to start at a much better wage and benefits," she said.
Davidson has never shied away from an opportunity to be involved, and get others involved.
"She is always bringing new people into the union, sharing her story of how she got involved," said Mark Swenson, a teacher in Grand Forks who serves on the Western North IO Board with Davidson and nominated her for this award. "She has advocated, recruited, supported and served in so many capacities that I can't name them all. In addition, she helped to encourage the organizing of the ESP local in her district and get them to be active in our activities region-wide."
Davidson has also led at the state level in the union's political activity, serving on the Political Action Committee and chairing it at one time.
"I've always been involved with politics, whether it be lit drops, door knocking or phone banking. With the PAC, I got to be a part of it, have a say and a voice at the table," she said.
Connecting the political work of the union to her members was a big reason why Davidson has committed to being on the PAC Board.
"Sometimes when you're 300 miles away from your State Capitol, you can feel removed," she said. "So I wanted to be involved right down there, where I could come back to the people that I represent and be that connection."
Davidson also knew that it was important for her to hear what was going on in other districts and locals.
"At the PAC, I also like that we have a diverse group from across the state," she said. "We have so many similar issues, like the lack of funding, but we also have different needs, which is important for us all to know about."
Including the PAC, the core of Davidson's work has always been an advocacy for students.
"As a leader, she knows where to push and how to question for our students," said Doug Werner, a Minneapolis teacher who served on the PAC with Davidson. "You saw that in her leadership on the PAC. She was always advocating for all of our students."
Davidson knows that student success can be directly tied to educators feeling supported and respected.
"I truly believe that if the people who are working most directly with kids, if they aren't being treated fairly, if their working conditions aren't right, if they aren't feeling like a professional, all of that falls back onto the kids," she said.
Her support for students has also brought Davidson into other union work, like working on a research paper showing the importance of trauma-informed schools and restorative practices through Education Minnesota's Educator Policy Innovation Center.
"She was advocating for trauma-informed schools before that was the lingo," said Tara Miller, a licensed school social worker in Crookston. "She knows what our students and our schools need."
"She always reminds us all that kids are more than a screening score on a test," said Geist.
Whether it be in the union or in school, Davidson is the go-to person in her district for all of her colleagues.
"She is the go-to person for parents, teachers, even administration," Miller said. "If she doesn't have the answer, she will listen and help you figure that out. People go to her knowing, if you want action, Kim's going to help."
"She always goes above and beyond for her kids. She comes up with ideas and projects that I know the kids will always remember," said Sarah Pester, a teacher in Crookston. "She knows her stuff when it comes to the union. She has an answer or can get you an answer on anything."
"Kim is nearing the end of a long career of teaching excellence, union service and most important of all, servant leadership," Swenson said. "She has led by example, and that example is spectacular."