Dave Kerkvliet has been teaching band for 24 years, but has been a musician and fan of rock bands for his entire life. Recently he was able to connect those two passions in a very big way.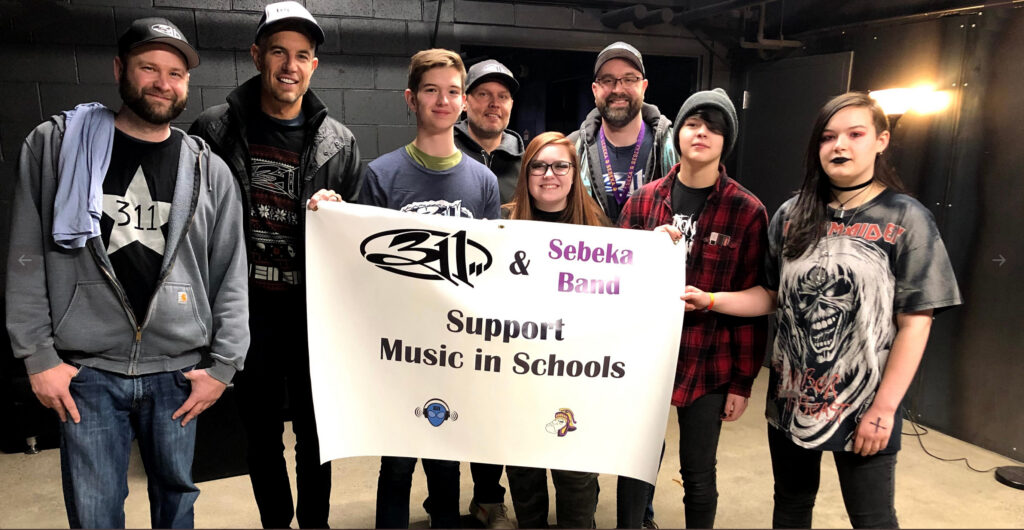 "I'm a 311 fan," Kerkvliet said. "They've been around for 30 years and been able to maintain a level of success. I've been going to more shows and have connected with the band a bit."
So when Kerkvliet heard 311 was playing a show at the Armory in Minneapolis, he had an idea.
"I got in contact with them and invited them to our band concert the night before in Sebeka. They couldn't make it, but invited us to come down and have students meet with them before the show."
The band has partnerships with Plus 1 and VH1 Save the Music, so it was an easy connection for them to want to partner with a local school.
Kerkvliet picked four students to go with him, along with their parents.
"The band put us on the guest list and gave us tickets," he said. "They brought us backstage during the opening acts and scheduled a half-hour conversation for us. We talked for more than 50 minutes, and only ended because they had to go on stage."
The students met with lead singer and guitarist Nick Hexum and drummer Chad Sexton.
Kerkvliet assigned the students to draft their questions and submit them ahead of time.
The students asked about how they stay together, what touring is like, how they got discovered, what working with and without a record label is like, how they write songs and how important school music programs were in their lives.
Hexum and Sexton met in their high school band, Kerkvliet said.
"They explained that program was huge in getting them into music," he said. "Without that, they said things would have ended up differently."
Kerkvliet tried to pick students who had an interest in rock music and who were part of his independent study classes on recording music and learning multiple instruments.
"I knew I would have a lot of students upset," he said. "But we recorded the interview and played it back during the next class. Nick and Chad gave a video shoutout to the rest of the kids."
Kerkvliet also used his school's vinyl printer to make banners that showed the band and school logos. The band students all signed one banner to give to the band and 311 signed another one, which is now hanging in the band room.
VH1 and 311 both shared out the photos with the group and the banners on social media.
"The band feels really special to have this exposure," Kerkvliet said. "It's all about motivating them with the art that you're creating, the choices of music."
Kerkvliet has 230 of Sebeka's 500 students in his 5-12 band program.
"We have to have positive activities that kids enjoy and get them excited," he said.
While this was a great experience for his students, it was also a once-in-a-lifetime for Kerkvliet as an educator and as a 311 fan.
"It started out as a fun request. The biggest thought it my head was that I used it to tell the kids in a small school that you never know what's possible until you ask," he said.