When the COVID-19 pandemic closed school buildings in 2020, Amanda Everhart of Bagley was just like any other educator, trying to change the entire way she taught her lessons. For Everhart, it also provided an opportunity to see if any of the online apps she was now going to be using could help improve her students' math skills.
"When we got shut down and had two weeks to plan, we didn't receive much guidance except that kids were going to be on their devices," Everhart said. "We had all of these apps we're encouraged to use, but are they helpful?"
Everhart was also working toward her master's degree at the time, so decided to collect data as part of her capstone project.
Everhart looked at data on third grade students and found that many struggle with the six, seven and eight multiplication facts and ultimately this hinders their attitude and beliefs in regards to mathematics.
"I pulled together a small sample group of kids whose parents said yes," she said. "I met with them as a small group using apps called Quizlet, Kahoot, IXL and Reflex."
The small group met four days a week for 20-30 minutes, using the apps in different ways.
"I used Kahoot for just math fact questions. Quizlet was more specific math facts," Everhart said. "Every day they had to be on Relflex until they get their 'green light.' If they know their facts, they could get it in five minutes. Some took longer."
Everhart saw this as similar to the small group format she used in her classroom, but using the apps was a way to easily replicate that idea online.
"I tried to make sure it wasn't too time consuming so they were on their screens all day," she said. "I also wanted to make sure what I was assigning wasn't just busy work and was valuable."
To assess a baseline of the participant's beliefs and attitudes of mathematics, Everhart gave her students a pre-study questionnaire using a Likert scale. At the end of the intervention, participants were given the pre-study questionnaire to analyze if there was an increase in their attitudes and beliefs of mathematics.
In the end, Everhart found a positive correlation of the integration of multiple technology tools, game play on Zoom with an instructor to provide immediate feedback, and help when practicing multiplication to student's attitudes and beliefs.
She also found that by integrating digital game play focused on the multiplication facts of six, seven and eight showed an increase in their knowledge of their multiplication facts.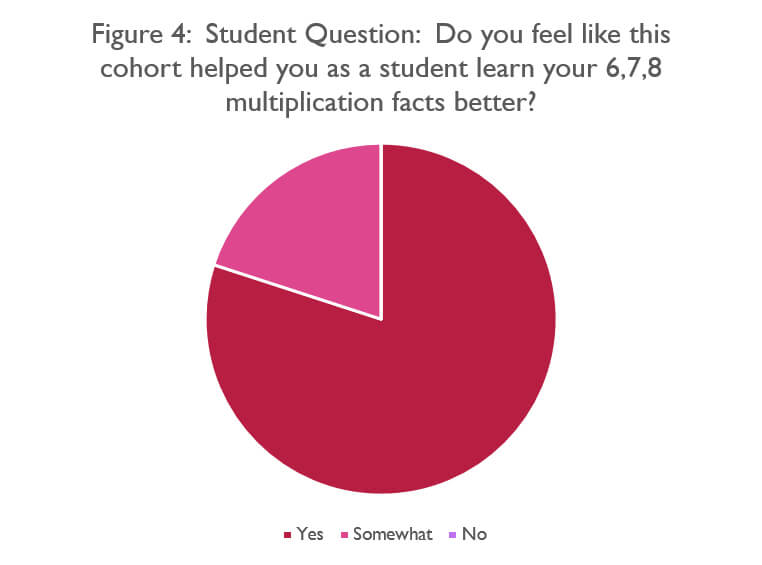 Everhart knows that her group was small and because of the pandemic, there was no control group, but she is happy to have something to share out about the use of apps and their impact on student performance.
"I just want to share out that these are my results are and what worked with my kids," she said. "Through technology integration, small group, targeted game play and instruction, students were more confident in their math skills and in multiplication altogether."