Members of the Saint Paul Federation of Educators went on strike March 10-12 after nine months of negotiations with the district, including more than 45 hours in the four days leading up to the strike.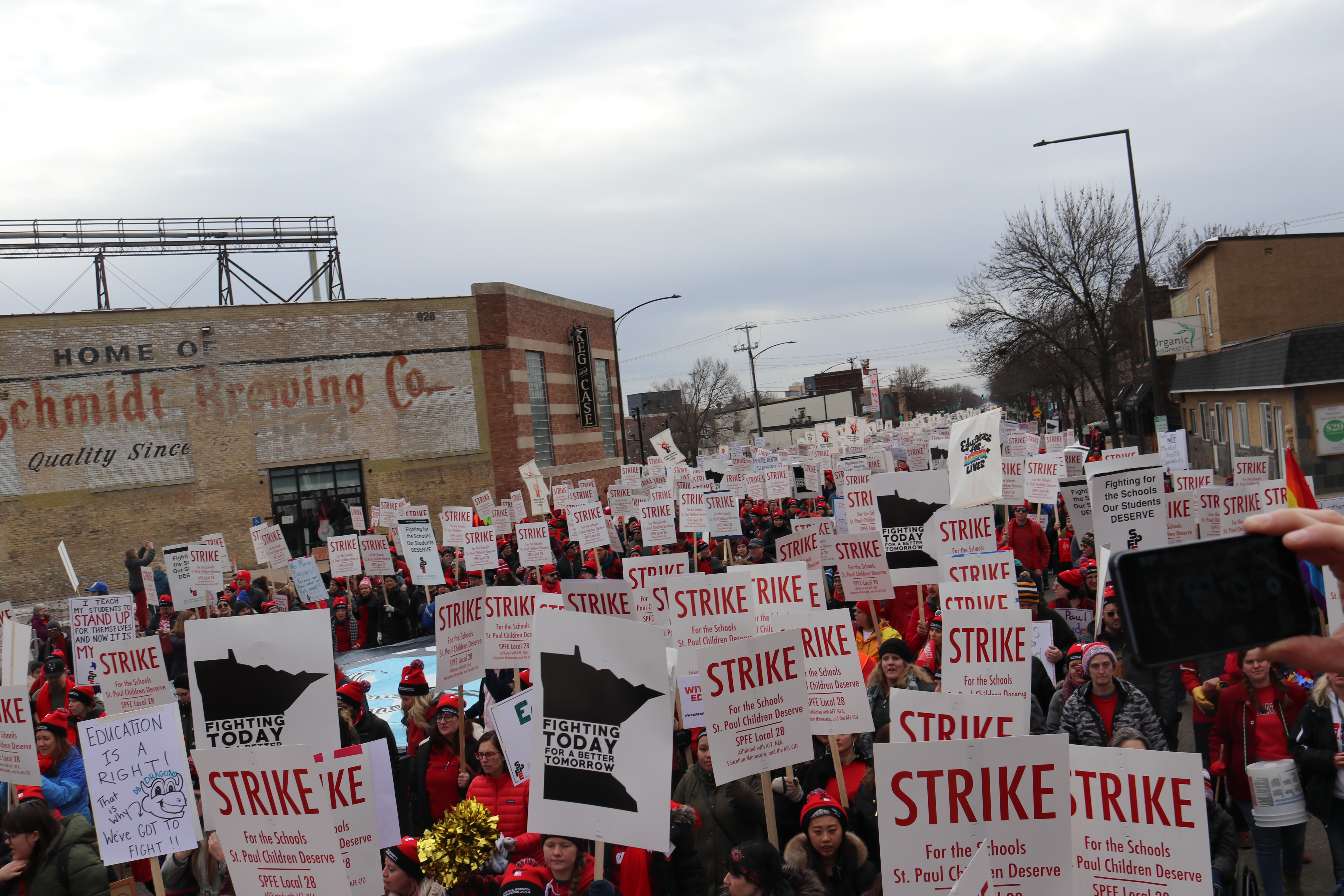 "Unfortunately, after more than nine months and marathon bargaining over the weekend, district leaders weren't willing to move on the issues educators and parents know will help students thrive and break down racial barriers in our schools," said SPFE President Nick Faber in a news release the morning his members walked out.
Negotiations began in May 2019 between SPFE and the district. The union offered 31 proposals and filed for mediation that November because the district never offered counters to many of those proposals. They had 12 mediation sessions before the strike took place.
The union's top priorities were:
More mental health supports in schools, including more social workers, counselors, psychologists, school nurses and behavior intervention specialists.
More multilingual staff to help our students and families who need interpreters.
Additional educators working with students with special needs and appropriate assignments for educators so they can give students more one-on-one attention.
Expanding restorative practices to build community and a positive climate in schools.
"Educators all over Minnesota share the same frustrations as our colleagues in St. Paul. We don't have enough resources to do our jobs as we know they need to be done—not for students with special needs, not for students living with trauma, not for students learning English and not for students who need one-on-one attention," said Denise Specht, president of Education Minnesota, in a news release on March 10. "Minnesota educators believe in working in union to improve the lives of our students and to sustain our families. Today, the members of SPFE are showing we mean it. They're walking tall for what's right."
The strike ended after three days and a negotiations session that went into the early morning hours of March 13.
"We're proud of our members during this strike," said Faber. "The resolve they showed is inspiring to me as a teacher and union leader."
As of press time, the union was not releasing the specifics of their tentative agreement publicly, because they were sharing it at worksites with their members ahead of the ratification vote.
The union did say that the agreement includes:
"We have great TAs that we'll be putting to our members," Faber said.
More social workers, nurses, intervention specialists, psychologists and multilingual staff.
Expanding restorative practices to build positive school climates and help end the school-to-prison pipeline.
More manageable workloads to give students with special needs more one-on-one attention.
Wage increases.
Building-based substitute teachers for schools that chronically have a difficult time finding substitutes.
Prep time for educational assistants who are interpreters
An agreement to call for a moratorium on new charter schools.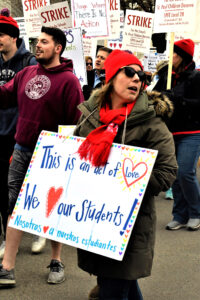 SPFE includes both licensed educators and nonlicensed school personnel.
As they walked out on March 10, 87 percent or 3,094 of SPFE's members were on the picket lines and about 3,000 educators, students, parents and community members participated in a march from a school through the West Seventh Street business district to district headquarters.
That march also included speakers such as Faber, Specht, American Federation of Teachers President Randi Weingarten and National Education Association President Lily Eskelsen García.
"I know all of you would rather be in school with your kids," said Weingarten. "But we are on the streets, as we have been coast-to-coast, from West Virginia to Seattle. We've been on the streets for the last two years because educators want what children need."
The strike lines took place at school sites, but also stretched to local neighborhoods and street corners and even the overpasses crossing I-94 and I-35E.
At Central High School, German teacher Mary-Fred Bausman-Watkins said her large school desperately needs the additional mental health supports that the union was fighting for.
"We have two social workers – one that is dedicated to special ed students and one for the 1,600 general ed students," she said. "It's just not equitable. They are always swamped and can't meet all the students' needs."
At J.J. Hill Montessori, Deidra Carlson said the school does not have a full-time nurse, or adequate levels of other mental health and student support staff.
"We are the experts," she said. "And no one is listening to us."
Day two, March 11, featured those same numbers of educators on the strike lines, and a march through downtown St. Paul – past city hall and businesses.
St. Paul City Councilors Nelsie Yang and Mitra Jalali spoke in support of the educators and their demands, as did Minnesota State Auditor and former teacher and union leader Julie Blaha.
On the strike line at Harding High School, Tom Stinson, the school nurse, also serves on the union's bargaining team.
"(District leaders) say everything is fine," he said. "But if I can't stand up for myself, how can we best support students?"
Stinson was joined on the line at Harding by Beth Kemis, the school psychologist.
"My national association recommends a 1-to-500 ratio," she said. "I have 2,500 students I serve. And they have me doing mostly special education assessments. We could be doing more to help students, but we don't have time."
Harding's strike line also included Hmong dual language teachers Youa Lee and Chivouayi Lo.
"All of the things our union is bringing to the table, we see in our classrooms," said Lo. "Our Hmong dual language students need to have access to someone who can understand their culture and what their parents need, too."
"We also need that education assistant support," said Lee. "We don't have a Hmong EA at Harding."
At Maxfield Elementary, Fallon Henderson said she is lucky to be the school's restorative practices coordinator, because a lot of schools don't have one.
"We are a small school, but we are mighty," she said. "But we have been hit by a lot of tragedies in our school and community. We're trying to build healing and we know that's going to take a lot of staff support."
Henderson said her school has seen the difference having a restorative practices program makes for both students and staff.
"Students and staff can come and ask me questions," she said. "Just having that time to set aside and talk through things is key. Students come and say, 'I want to talk.'"
Murray Middle School teachers also talked about the lack of supply budgets to give their students an equitable and adequate education in classes like art and science.
"I see half of the school," said Lolly Haas, an art teacher. "I have a zero-dollar budget for supplies. Everything I get is from fundraising and parent support."
Haas also addressed her high class size as a barrier to giving students the proper mental health support.
"We hear we need to do more," she said. "But when you have 36 students in a class, how can you pull a student aside and have a meaningful conversation?"
Murray science teacher Nick Altringer also said that years and years of shortages in his supply budget have impacted his teaching.
"We need access to materials to allow for good inquiry," he said. "We also need more staff support to make school a safe place so they can focus and learn science."
Day three, March 12, brought educators out onto the lines, but with umbrellas and ponchos as rain fell for most of the day, and to a march from Central High School to University Avenue.
Leaders from the United Teachers Los Angeles and Chicago Teachers Union spoke with messages of solidarity from their members who have been out on strike in the last few years, too.
At St. Anthony Park Elementary, fifth grade teacher Tari Hella-Yelk said that students at their school speak more than a dozen home languages.
"We need proper interpreters," she said. "We want family involvement and one of the best ways to do that is to communicate effectively and properly."
Jennifer Christianson, a first grade teacher at Adams Spanish Immersion, said that the union's proposal for smaller class sizes specifically for immersion programs was very important to them.
"I have 29 first graders and four IEPs, so it would be great to get the class sizes down a little smaller in order to give them the best experience learning a second language," she said. "We also need professional development that is specific to immersion programs."
While the union knows that it didn't get everything members wanted in this contract, and settled when it did partially because of the COVID-19 response needed from the district, Faber said he knows his members are not putting their energy away.
"We're ready to keep fighting," he said. "Our members are organized and going to continue to put the students' needs first. You saw the educators out there and how much they care and how much they are willing to sacrifice."