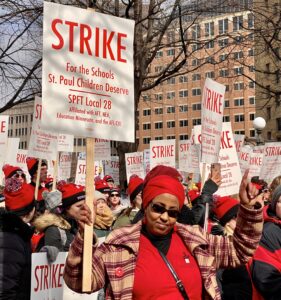 The Saint Paul Federation of Educators strike March 10-12 was the first strike in Education Minnesota history that included education support professionals and nonlicensed staff.
"Our ESPs, we matter and we will not be on the back burner anymore," said Sylvia Perez, a community and parent support staff at Crossroads Elementary and the nonlicensed director at SPFE. "We deserve everything we are fighting for."
The union's bargaining team included Perez and many other ESP members.
Many of the union's proposals centered on better supporting multilingual staff, many of whom are ESPs, as well as additional educators working with students with special needs and appropriate assignments for educators so they can give students more one-on-one attention and wage increases.
Most Saint Paul ESPs work more than one job to sustain a living.
"I only work two jobs, but I worry about my colleagues who work four," said Yasmin Muridi, a member of the bargaining team and Education Minnesota's ESP of the Year, at Education Minnesota's Unity Summit on Feb. 1. "One job should be enough."
On the strike line at Central High School was Fatuma Aden, a Somali education assistant who just started with the district three weeks before. She is the first Somali EA at Central in three years, a school with a large Somali student population.
Aden splits her time between Central and Humboldt High School.
"I go to classes with kids and get to know them, but then I have to move to Humboldt for two days," she said. "I have parents calling me and I talk them through what is happening with their students. I have students telling me, 'I wish you could be here every day.'"
Harding High School EA Maetzin Saenz said that ESPs are being asked to do more and more, without the proper supports and training.
"It's not fair to students," she said. "We just don't have enough. Students have developing brains. How can we say mental health isn't an education issue?"
Another Harding EA, Hsakushee Zan, said she works with all 140 Karen students in the building, as well as provide the connection between home and school.
"We want parents to feel welcome in the schools, too," she said. "But if they call with a question, I have to step out of the classroom where I am working with a student."
St. Anthony Park Elementary EAs were on the line with teachers to ask for additional staffing.
"We see a lot of understaffing in our programs and direct one-to-one ratios aren't being met," said Jon Thao, an EA and group lead for Discovery Club, the before- and after-school program.
"We're trying our best to spread ourselves and right now we're spreading ourselves too thin."
The district did agree to increased staffing for ESP positions, as well as prep time for educational assistants who are interpreters.