Recent national research has found that more than 40 percent of teachers leave the profession in the first five years.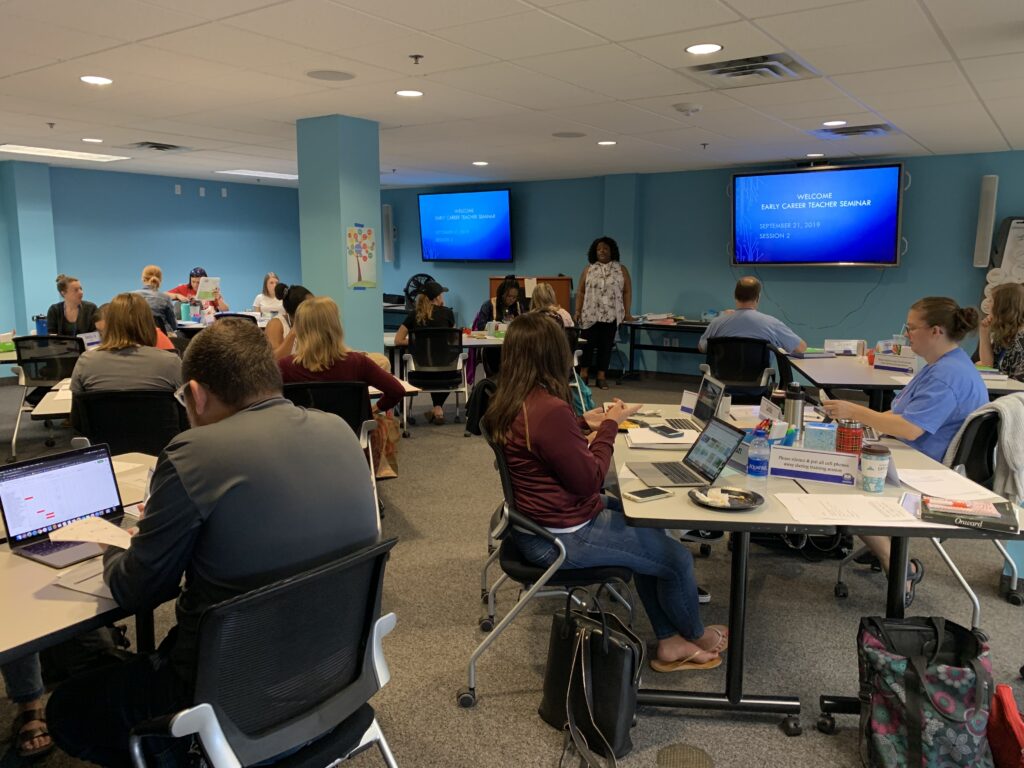 Education Minnesota has been working on educator retention legislation at the state Capitol, including producing a research paper on recruitment and retention strategies. But now the union has created a space for early career educators to network and learn best practices for addressing issues related to staying in the profession.
The Early Career Teacher Seminar launched this fall, and is a partnership between Education Minnesota and Metropolitan State University. The class is funded through a grant from the National Education Association.
"The union wants to provide support for these educators and address some of the things these educators face," said Vicki Turner, Education Minnesota education issues specialist who teaches the course. "When you first start teaching, you don't have all your tools, but you have yourself. And if you know yourself, you can build yourself as a teacher and get those tools you need to do the best you can for your students."
This course set out to provide early career teachers who are within their first five years of teaching support in creating work/life balance; instructional strategies; classroom management; building relationships with students, families and colleagues; cultural awareness and understanding the roles of building professionals.
"This is different than the professional development that we normally offer," said Turner. "This is building up to something, a behavior change project. At the end of the course, they are going to develop a behavior plan to see what they are going to do differently and work on to be a better teacher."
There are 25 educators from across the state in this fall's course. They attended five classes and received three graduate credits and 10 continuing education units.
In between the classes, the participants journal, as well as continue to connect with each other. They are reading "Onward: Cultivating Emotional Resilience in Educators," by Elena Aguilar and are using a workbook that goes along with the text.
Turner leads the class but also brings in outside speakers, including Education Minnesota's Facing Inequities and Racism in Education program staff; administrators and specialists on advanced differentiation.
In preparing for the course, Turner sent out a survey to teachers in their first three to five years and brainstormed other topics with Education Minnesota members. She took the main areas of concern and what veteran educators said they wished they had learned to create the discussion topics.
"We know we need to work with kids' social-emotional learning because that's how they are going to achieve," she said. "We knew teachers needed to also have social-emotional learning, too."
For the early career educators, the class has been a way to connect with other people like them.
"I found a camaraderie I was looking for," said Katelyn Westlund, a second-year teacher from Blackduck. "I heard about the class from my local union and figured I had nothing to lose and everything to gain. I'm already getting a lot out of it."
Bryan McFaul has been teaching for four years, and worked as a paraprofessional for many years before that. He said he had been thinking about leaving the profession, but decided to try this class to see if he could develop any tools to help him not get to the point of leaving.
"I wanted to see if I could find what I am missing for me to have these thoughts of leaving," he said.
Being proactive to fight burnout is also why Brianna Dietz, a teacher in North St. Paul-Maplewood-Oakdale, took the class.
"My first year was rough," she said. "I needed something. It is really great to be meeting people going through the same thing."
"I want to teach for a long time," said Angela Johnson, a first-year teacher in Minneapolis. "I want a work/life balance and I want to be the best I can be."
Not only are the educators finding ways to improve themselves, but also bring things back to their classroom.
"I am learning about work/life balance," said Kim Le, a fourth-year teacher in Minneapolis. "But I'm also taking little tidbits to bring back into the classroom for behavior management."
"I'm hoping this brings a new energy into my teaching," said Westlund. "It's also nice knowing I'm not alone and other people feel this way. We're not on an island."
Applications are open for the second Early Career Teacher Seminar. The course will take place once a month from January to May, with classes taking place at Education Minnesota's St. Paul office. Participants will receive three graduate credits from Metropolitan State University.
Go to bit.ly/36P902v for more information or to apply by Dec. 15.