Two new charter schools unionize with Education Minnesota
The teachers and staff at Hiawatha Academies, a Minneapolis charter school network, and Great River School, a St. Paul charter school, both voted to unionize with Education Minnesota this June.
Both schools' bargaining units will include teachers and most non-management school staff.
Great River and Hiawatha become the fourth and fifth charter schools to unionize with Education Minnesota. The 106 educators at Great River and 205 educators at Hiawatha are now spending the summer creating and adopting governing documents and beginning the process of negotiating their first contracts.
For both groups, the idea to unionize came after years of conversations about organizing. But both groups also said the pandemic and distance learning gave them more reasons to highlight the need for educator voice in decision-making at their worksites.
"Like most of the country, the pandemic shined a very bright light on how decision are made and who was at the table," said Abby Mesnik, an educator at Great River who was one of the leaders of the organizing efforts. "We're relationship based, which is a good thing. But that means that certain people have more power than others. These people are getting listened to and these are not. How can we all as one group work together?"
"I always tie it back to Hiawatha's mission statement which is that all scholars will be empowered with the knowledge, character and leadership skills to graduate from college and serve the common good," Janiru Herath, a Hiawatha Academies educator during a Facebook Live announcement of the unionizing effort. "Through unionizing, we can have a seat at the table in which the decision-making process can include all voices. That would include teachers, paraprofessionals and operations staff."
At Great River, Mesnik said that there is a teacher-majority school board, but the mission statement of that board states that they don't manage the day-to-day policies and board members are told to take their "teacher hat" off while acting as a board member.
"So things like our grievance policy has been on their docket for five years," she said. "The things that we need support with, they are not supposed to handle."
Spencer Virden, an educator at Hiawatha, said the real conversations about unionizing started when educators would go to networking or professional development days put on by the administration and nothing seemed to be relevant to what was happening in classrooms.
"Every single time we had a network day, it was starting to boil over," said Virden. "Staff started to push back and challenge power, even without a union."
But Virden said the networking days also allowed educators from across the five Hiawatha sites to come together and start having conversations and exchange ideas.
"When rank and file members get together, there is real talk," he said.
Educators at both schools said that feeling like they are in a silo and not always supported was another major reason for unionizing.
"Our school has always seen the value of unionizing but it didn't seem practical at the beginning because we were so small and still establishing our school culture," said Jessy Fabel, a Great River educator. "But we outgrew our current structure. We grew from 300 to 700 students and we didn't put in any new systems so a lot of things fell through the cracks."
"As our school grew, we're lacking some of the systems in place to get answers," said Mesnik. "We're also so isolated and we couldn't communicate about our struggles and problems. In doing the union work, it was the first time we as elementary teachers worked with middle and high school. It brought us back as one school to talk about what we need as a whole school. We realized that these weren't just group or individual problems, but a whole school problem."
At Hiawatha, there are five schools, so educators are naturally separated, but Virden said that educators were craving the opportunities to connect.
"There was a visible frustration from people at our all staff meetings," said Virden. "So we had about six or seven people from the high school start talking. Then it became about 12 or 13."
Educators reached out to representatives at Education Minnesota to learn more about the process of organizing.
"We had a moment of where we thought we could just announce that we want a union. Then we realized, oh maybe we should find out our rights and the legal aspects of the process," said Mesnik.
While the pandemic brought more reasons to organize to light, it also made the process of organizing a little more difficult.
"When you're trying to unionize in the pandemic, and you can't have a one-on-one conversation in their classroom, it was difficult to contact people and then start the conversation of the union," said Fabel. "To go through all the steps and have to vote, it was a more cumbersome process. But we had small events where we had the initial conversation and then had people sign the cards, right then and there. It gave people the time to connect and people were hungry for it. "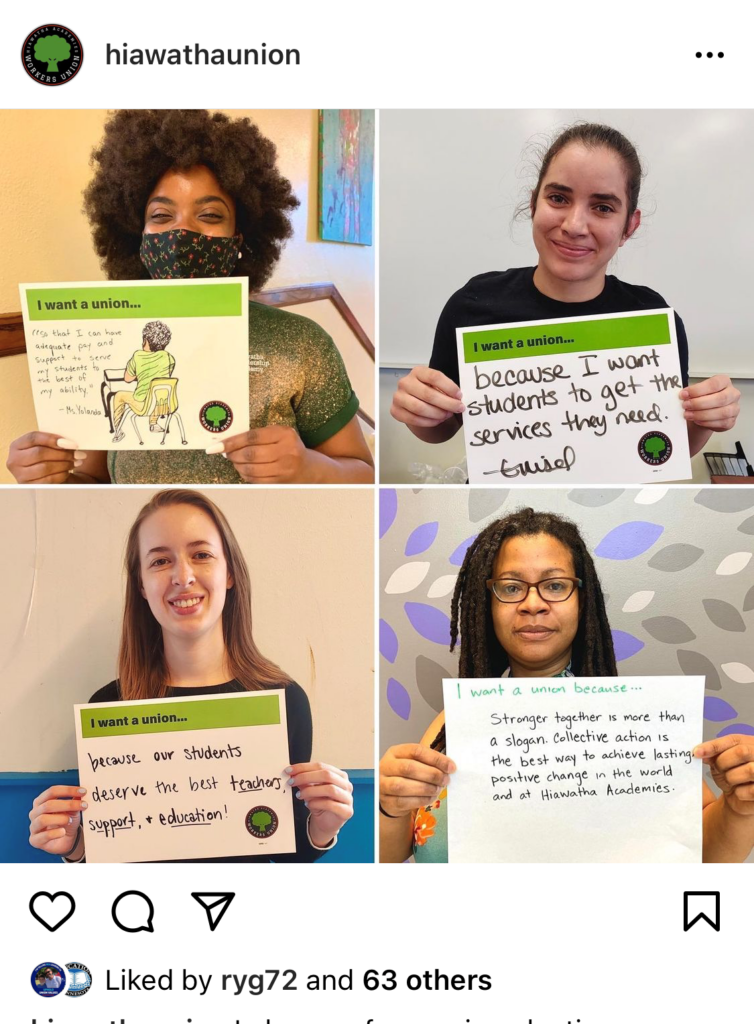 "Once we got all of the schools represented on the organizing committee, we started really working on our campaign," said Virden. "We started at about 12-15 percent, but we had meetings on Zoom and just started chipping away at conversations. More and more people joined, then they had relationships with other people and invited them in. You have to build the majority. Solidarity doesn't come instantly."
Now that both groups have voted and are officially a union, the process of setting up their bargaining units begins.
The educators of Great River and Hiawatha Academies are both focused on keeping these efforts tied to what is best for students and staff.
"We hope that students and staff will benefit from having a consistent voice that already know their families and community and know how to advocate for what they need," said Herath. "We have amazing staff, and in order for us to keep a sustainable model, it's important for us to keep those people in place. Having this union in place will allow us to advocate for our families like never before. It's incredibly valuable."
"Students are at the center of everything that we do, and by prioritizing the voices of the people who work closest to them, we can increase student outcomes and we can also increase the satisfaction of the workers," Tory Waggoner, a Hiawatha Academies educator, during the Facebook Live announcement of the unionizing effort.
"We could not continue with the status quo," said Mesnik. "Now it's on to talking about what's important for people to negotiate for before we act on it."