The Minnesota State College Faculty is looking to build the union organizing skills of its members, as well as solidarity at its chapters, through a new member assessment project.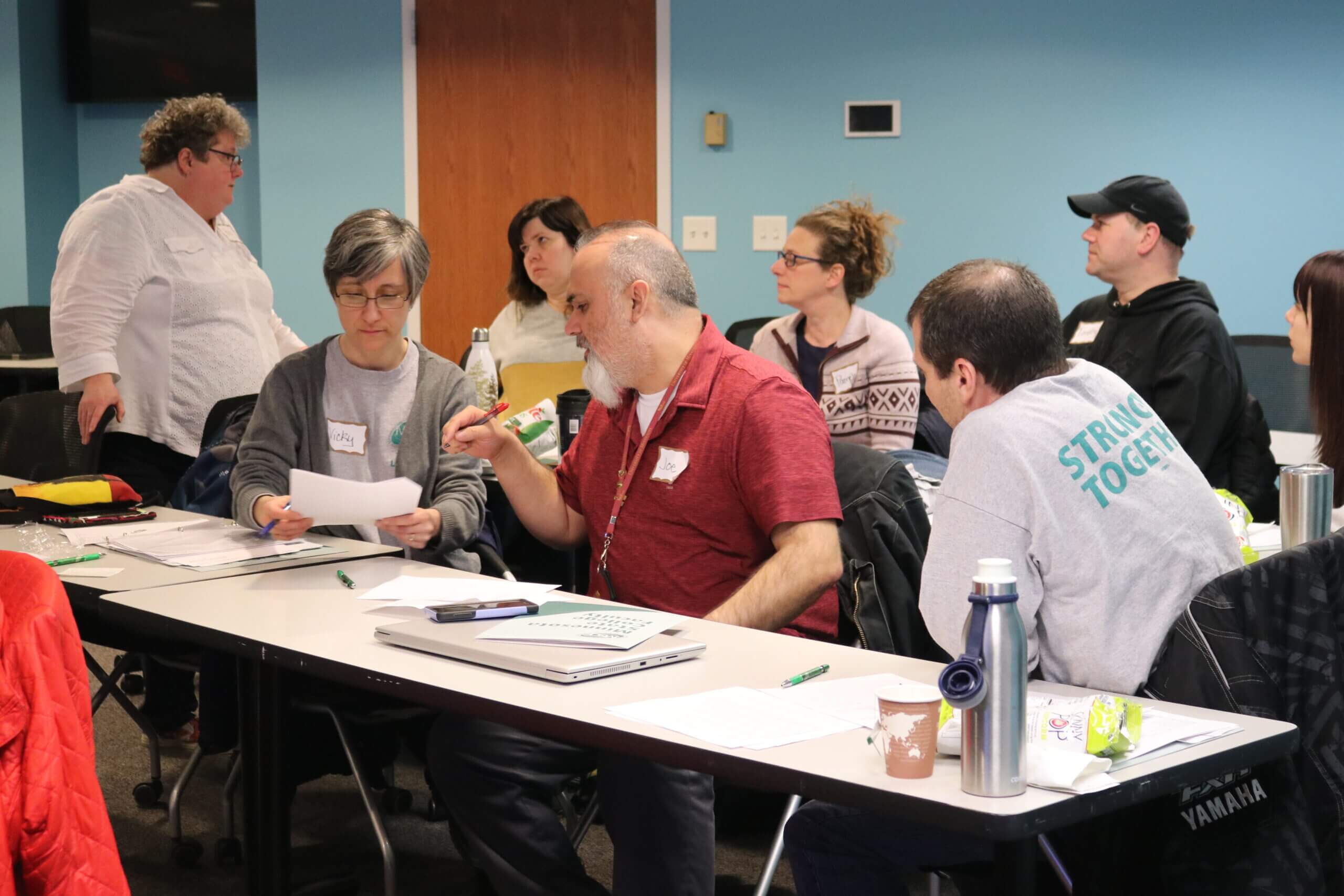 "These skills are not something that people are born with," said MSCF President Matt Williams.
"There's something about a one-on-one conversation in an organizing setting that is unique, it has a purpose. We spend, as educators, a lot of time having conversations, but this is a special and unique conversation. We want to provide the training and education so our members have those skills."
MSCF has started with six of its chapters, who are putting together teams to start this work. The teams all took part in a training at Education Minnesota's St. Paul office in January, and have been beginning to implement their plans. The project is being funded by an Education Minnesota Local Time Enhancement Grant.
The goal is to have conversations with 90 percent of their members by the end of the academic year.
"We are having monthly check-in calls," said MSCF Secretary Gretchen Long. "We talk about how they are going to accomplish their goals and what successes or problems they might be having."
If all chapters meet their conversations goal, it would mean 650 conversations took place.
"They are finding, for the most part, that the conversations have gone well," Long said. "Something that is unique to higher ed is that they don't necessarily understand the other programs on the campus. First you have to understand what someone does all day, then you can start to appreciate that which builds the greater solidarity."
The faculty who are participating in the program are excited about the member engagement potential of this project.
"I am hopeful we can energize or reenergize our membership," said Liz McLemore, from Minneapolis Community and Technical College. "We want to refocus on the positives our union can celebrate and address any problems it needs to address."
At Fond du Lac Tribal and Community College, the faculty is looking to become more of a collective through their union.
"We would like to have a higher density of membership and activate more members," said Carl Sack. "We want to look at concerns for our students and with our system, and show that being in a union is doing good for the collective."
For faculty at St. Cloud Technical and Community College, they have a good system of union leaders in place and have a team of 12 ready to take on this project.
"We're all involved," said Vicky Kapitzke. "But we want to know what the two or three issues are that we all want to fight for, and is there something we can do about it?"
While this initial project is a pilot, MSCF leadership hopes this is the start of a union-wide movement.
"Our long-term goals recognize that we're in a moment of history that the status quo and small changes aren't working for our students, our campuses, our profession," said Williams. "We have to increase our capacity to make change happen. This program is beginning a much longer journey we will go on. Our most powerful tool of change is that we can work together and that we share a common interest. This is just the very beginning of a lot of exciting stuff."