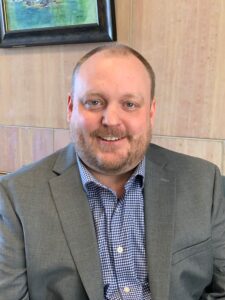 Ryan Fiereck was appointed to the position of vice president Jan. 15 by the Education Minnesota Governing Board, after the seat was vacated by Bernie Burnham's election as president of the Minnesota AFL-CIO.
Fiereck will serve until July 1, when the statewide officer team elected at this April's Representative Convention will start their term.
Fiereck is a business and technology teacher in St. Francis, where he has worked for almost all of his 17-year career. He has served on the Education Minnesota Governing Board for nine years and served as Education Minnesota-St. Francis local president, where he represented licensed, nutrition, preschool, transportation and office staff, as well as education assistants.

Fiereck has also served on the negotiations team for the St. Francis licensed staff, has been vice president and president of the Metro Area Council intermediate organization, and was on the Education Minnesota Governing Board Executive Committee.

Fiereck hopes to bring his experience as a K-12 teacher, working parent and local union leader to help elevate the conversations we need to be having about education right now.
When Fiereck was early in his career and union involvement, he noticed that there was a lack of younger educators involved in their local, state and national unions. He held start NextGen EdMN, which aimed at connecting members in their first years in education with their union. The program doesn't exist in that form, but Fiereck hopes a lot of the lessons they learned inform the member engagement work happening at the Education Minnesota.
Professional teaching experience
K-5 Computer Applications and Technology Teacher, East Bethel Elementary School
6-8 Computer Applications, Computer Programming And Business Education Teacher, St. Francis Middle School and Saints Online School
9-12 Computer Applications and Business Education Teacher, Saints Online School and Crossroads School At Bar None
Education
M.S. Education St. Mary's University Winona, Minnesota
Bachelor of Science Business Education Winona State University Winona, Minnesota
Union Leadership Program Carlson School Of Business, Minneapolis, Minnesota
K-12 Principal Certificate Minnesota State University Moorhead, Moorhead, Minnesota
Personal
Fiereck lives in Bethel with his wife, who is an education assistant in St. Francis, and their three young children.
Email address