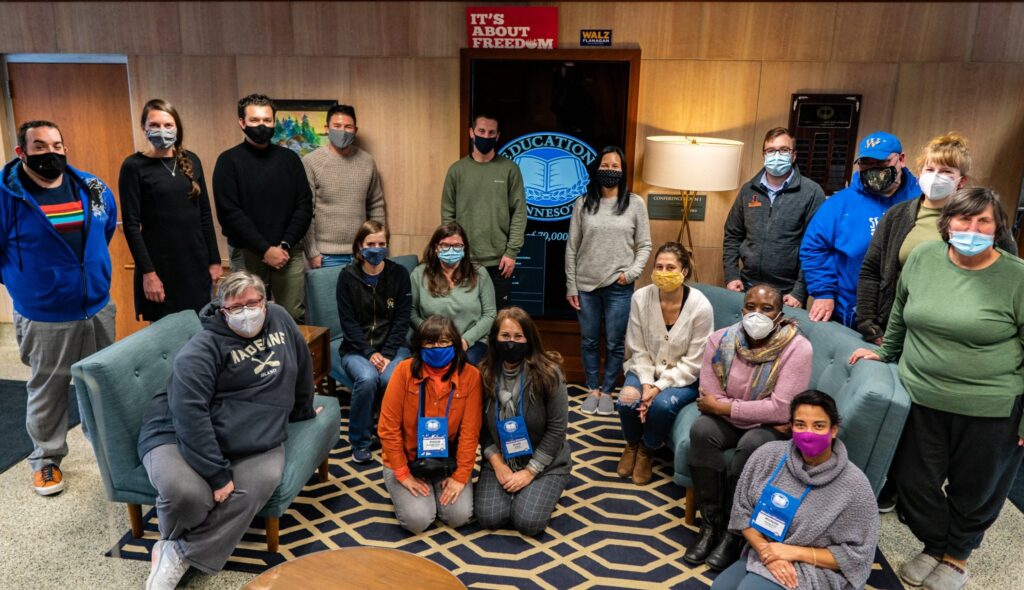 MEA FIRE: REA cohort program
The Minnesota Educator Academy's member-driven program for Facing Inequities and Racism in Education aims to disrupt systemic racism and racial inequities in Minnesota's education system.

The FIRE program leads our state's educators in a movement to live equitably and practice recognizing and responding to inequities and injustices. The FIRE program includes the Racial Equity Advocate cohort program and a series of professional development modules for educators to grow an anti-racism mindset and opportunities to engage with Education Minnesota's members to interrupt and dismantle institutional racism.
Applications for our fifth cohort are now closed.
The REA cohort is an ongoing program that works to create a network of educators dedicated to helping members grow in their own racial equity journeys and to expand their anti-racism mindset. At the end of the training, REAs will be empowered to work as members of the union to activate change at the building level and beyond.

Possible outcomes include:
Functioning effectively as part of an interracial cohort of people who are courageous with each other, committed to reflecting on and improving their own practice and modeling communication skills and processes that disrupt the institutional privilege of whiteness and advance equity.
Developing and delivering professional development for Education Minnesota members that is designed to grow racially equitable classrooms by facilitating growth of individual racial consciousness and intercultural competency.
Using a racial equity lens to advocate for the rights and protection of all educators (teachers, ESPs, paras, EAs, etc) working to develop anti-racist mindsets and practices in their classrooms, with a special focus on supporting and advocating for educators of color, so that their rights and needs are respected and advanced.
Challenging systems of oppression that are personal, local and immediate.
Examining unionism through a racial equity lens.
Continuing to participate in a network of racial equity advocates committed to dismantling racism.
Working with other members of your local union to examine internal practices with an racial equity lens with the goal of building anti-racist values into local union practices.
If you feel the Education Minnesota Racial Equity Advocate program can advance your anti-racism work and you can commit to its goals, please complete this application:
Participant requirements
Must be a current, active member of Education Minnesota.
Support for and understanding of the principles of EdMN FIRE's work and appropriate and ethical representation of EdMN FIRE to the public.
Knowledge of current research on racial equity/social justice, theory, coaching and best practices for providing equitable educational programming leading to closing existing achievement gaps.
Knowledge and experience in providing professional development or coaching in the areas of equity, multicultural education and ability to address how race, class, sex and other forms of bias impact schools and the achievement and experience of students.
Ability to seek multiple perspectives and facilitate difficult conversations.
Ability to maintain confidentiality.
Good listening, planning and task-oriented skills, with an ability to follow through with assignments in a timely manner.
Excellent relationship-building skills, experience, and comfort working with diverse people from different racial backgrounds, from various communities, with different levels of formal education, and with a variety of decision-making authority.
Ability to organize and facilitate meetings, public education events, presentations and community forums and discussions.
Critical thinking and analysis skills, e.g., a capacity to analyze problems and design potential solutions to problems.
Openness to evolving responsibilities.
Proficiency in digital communication.
Experience using social media, including Facebook and Twitter, as organizing and communication tools is a plus.
Ability to travel to offsite meetings. Education Minnesota reimburses travel expenses, including car mileage.
Reasonable capacity to accommodate work hours that will fall outside of Monday – Friday, 9 a.m. – 5 p.m.
Preferred qualifications:
Individuals with lived experiences regarding racial equity bring important expertise.
Demonstrated ability to work collaboratively with educational leaders and diverse members of the school community.
Excellent presentation, interpersonal and communications skills (oral and written) required for preparation of training materials and related documents.
Ability to apply technology to design and deliver equity training and development.
Training calendar
Participating in the REA cohort has a mandatory one-year commitment, with opportunities to stay connected well past the first year.

Throughout the first year, REAs will invest time for individual and group growth to grow our own sense of community – a brave space for members to speak their truths, support and learn from one another, and self-reflect. Additionally, REAs will have the opportunity to participate in optional trainings, topics that would be named after our initial gathering. Our meetings will be in-person at the St. Paul office unless otherwise noted.

After the first year, REAs will have the opportunity to stay connected with not only the current cohort, but will all members of the REA family. These meetings tentatively will start summer of 2022 and will take place on an every-other-month basis. Meeting location will alternate between being in-person and virtual (Zoom).

REAs must be fully available for all dates listed. CEUs will be provided for all training (total ~40 hours). By completing the application, you are confirming attendance at all listed dates.

All training sessions are required, except as indicated with an asterisk (*). All travel and expenses will be covered by Education Minnesota (including substitute costs).

Times could vary slightly. Lunch/dinner will be provided at any in-person meeting.
Event
Time/date
Location
Training hours
Cohort kick-off
9 a.m.3 p.m. Saturday, Nov. 13
41 Sherburne Ave., St. Paul (headquarters)
6
January meeting
6-9 p.m. Friday, Jan. 14
9 a.m.-12 p.m.. Saturday, Jan. 15
41 Sherburne Ave., St. Paul (headquarters)
6
March meeting
6-9 p.m. Friday, March 11
9 a.m.-12 p.m. Saturday, March 12
41 Sherburne Ave., St. Paul (headquarters)
6
May celebration
9 a.m.-1 p.m. Saturday, May 7
TBA
4
Office hours
Summer 2022
Virtual
1
Online journaling
Once per month
MEA Online
6
Member Rights Advocate (MRA) training*
Various
Various
Representative Convention*
April 22-23, 2022
DoubleTree, Bloomington
Various state/national conferences (will be announced throughout the year)*
TBA
TBA
* optional training opportunity
** Please note, other optional training opportunities could arise throughout the year.
If you have additional questions, please email FIRE coordinator Jonathan Kim at jonathan.kim@edmn.org.