Minneapolis associate educator named 2021-22 Education Support Professional of the Year
For more information, contact:
CHRIS WILLIAMS
651-292-4816 (work)
651-247-5539 (cell)
KIEREN STEINHOFF
651-292-4865 (work)
651-247-4195 (cell)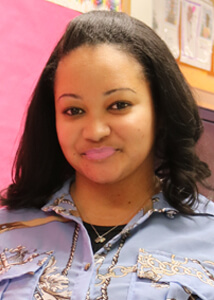 ST. PAUL, Minn., Nov. 17, 2021 – Education Minnesota is celebrating American Education Week by honoring Tequila Laramee, an associate educator at Bethune Community School in Minneapolis, as the 2021-22 Education Minnesota Education Support Professional (ESP) of the Year.
As an associate educator in a kindergarten class at Bethune, Laramee assists the licensed teacher in the classroom with small literacy and math groups, behavioral support and social and emotional support for students.
Laramee has been with the district for more than 10 years, also working at the before- and after-school care program. She has always been drawn to a career in education, especially to be a caring, trusted adult in the schools for kids who look like her.
"I want to show and educate students in poverty that they have choices," Laramee said in her application materials for the award. "I want to introduce them to careers they maybe haven't thought of and I want them to know they do not have to become stereotypes or a product of their environment."
"From arrival to dismissal, she is engaged with students, supporting them, encouraging them and redirecting them as needed," said Kari Ehlers, the kindergarten teacher at Bethune who works with Laramee, in her award recommendation letter. "She is able to connect with our students in such a caring and loving way that all the children feel safe and secure in her presence. Tequila also has made many impactful relationships with families, reaching out regarding students, providing support and helping families feel our Bethune love."
As the new Minnesota ESP of the Year, Laramee will receive a new Apple iPad and a $1,200 honorarium. She will also be nominated for the National Education Association's ESP of the Year and will receive an all-expenses paid trip to the awards ceremony, if it is held in person.
"ESPs are often the first people that interact with our students each day and the last ones to say goodbye," said Education Minnesota President Denise Specht. "The dedication Tequila has for her work and the love she has for her students is what helps them see value in themselves and their learning. In addition, her leadership in her union makes sure that all students, and educators, are seen and have their voices heard."
Laramee has been involved in the Minneapolis Federation of Teachers and Education Support Professionals local in many ways. She has spent her summers organizing and engaging with members about getting more involved with their union. She was elected to the ESP Chapter Executive Board and most recently was elected to the position of treasurer, which is shared between the teacher and ESP chapters. Laramee is the first ESP to hold that position within the union.
"I stand up and speak for what I believe in, for what ESPs deserve and for our students. I show up, work hard and do my best at whatever it is I am doing," she said. "I find many ESPs also being too busy and not having the time to be involved. I believe it is so important to be involved, because we're not just fighting for ourselves, we're fighting for the safety and education of our students. They are our future."
The winner of the Education Support Professional of the Year award is selected by a five-member selection committee that includes three leaders of Education Minnesota, the winner in the previous year and a representative of an external organization.
About Education Minnesota
Education Minnesota is the voice for professional educators and students. Education Minnesota's members include teachers and education support professionals in Minnesota's public school districts, faculty members at Minnesota's community and technical colleges and University of Minnesota campuses in Duluth and Crookston, retired educators and student teachers. Education Minnesota is affiliated with the American Federation of Teachers, National Education Association and AFL-CIO.