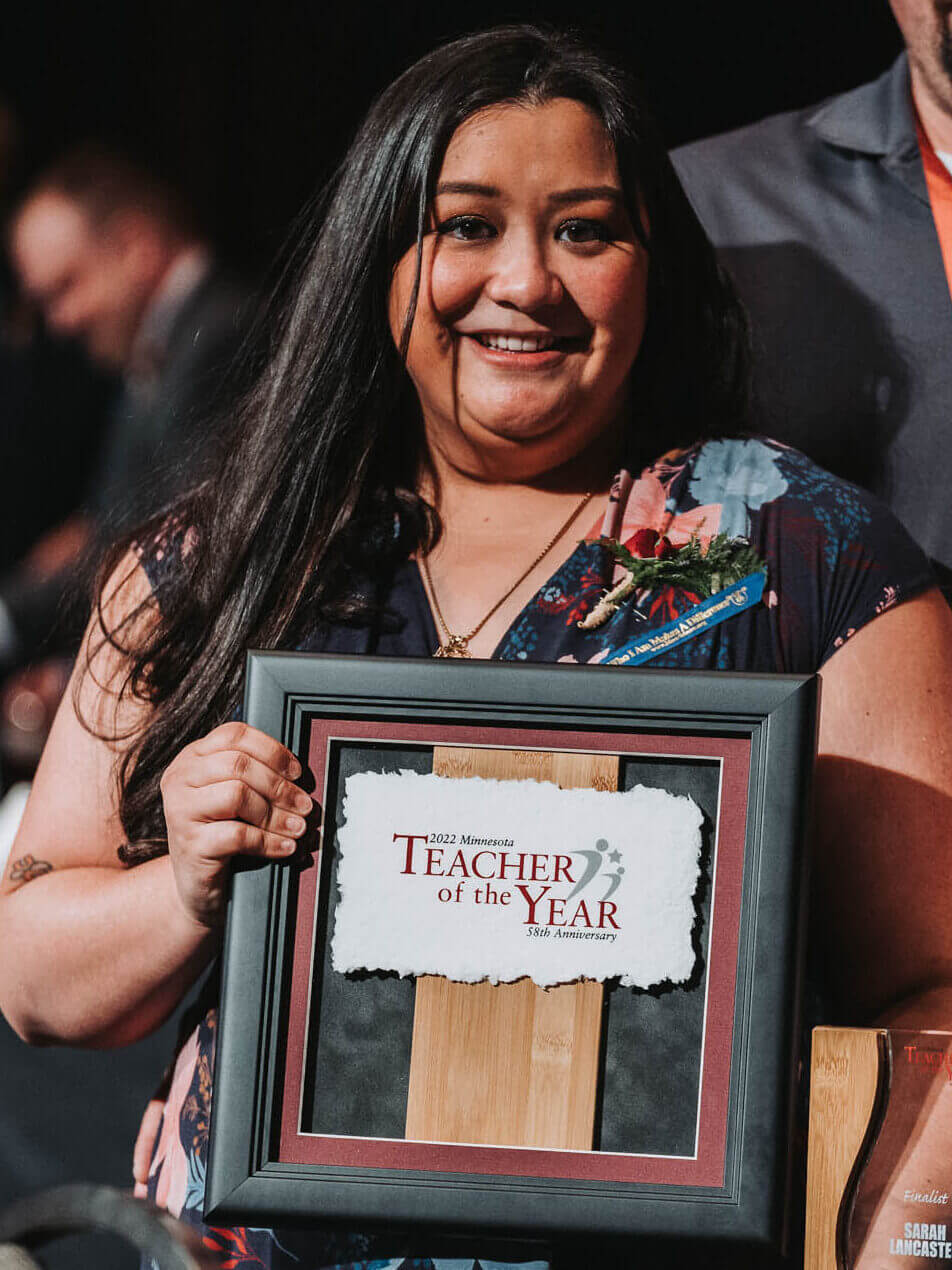 Sarah Lancaster knew she wanted to be a teacher when she was asked to read to her classmates in kindergarten.
"I had a fabulous kindergarten teacher who found creative ways to provide extensions for kids who were ready for challenges, so she had me read outloud to my class," she said. "I sat in the chair in front of my classmates and knew this was it. It was what I was going to do."
Lancaster is now finishing her ninth year of teaching in the same school district where she was that kindergartner. And, in early May, she was named the 2022 Minnesota Teacher of the Year.
Lancaster is the 58th recipient of the prestigious award, the first from the Onamia district and the first teacher of Asian Pacific Islander descent to be named Minnesota Teacher of the Year. It's the first time in 40 years of the program where a teacher from a district as small as Onamia has been recognized.
"Onamia is a small community with a big voice," Lancaster said. "Our school is doing amazing things in this town of 800 people. Small districts don't always get the spotlight, but small districts all across Minnesota are doing amazing things too."
Lancaster's first and only teaching job has been in her hometown, teaching third grade for two years and the rest in first grade. She says it is important to live in the town where she teaches so her students can see and identify her, the only licensed BIPOC educator in her district, as a community leader. "I want to give back to the community that once helped to set me up for success," she said.
The consistency of staying in Onamia and in first grade is also something important to Lancaster.
"I've taught every kid who is in our school who is in first through seventh grade," she said. "For kids who have dealt with trauma and inconsistency outside of school, me being here and being in first grade is a sense of safety for them. New kids coming into first grade see me in the halls and maybe had siblings who had me. That takes away some of their anxiety, too."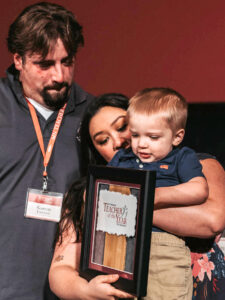 Her teaching team, especially her fellow first-grade teacher Cyndi Martin, is another reason Lancaster has stayed in Onamia.
"We have found in each other a partnership and friendship that pushes for the success of students and each other," Lancaster said.
Martin wrote a recommendation letter for Lancaster to be considered for the Teacher of the Year award.
"No matter the age of the students she is working with, Sarah displays an unrivaled amount of passion for student education and improvement," said Martin in her letter. "Sarah is forever willing and open to acquiring new knowledge to help students in need of intervention or enrichment. Her breadth of knowledge in teaching methods is vast, and she is able to connect with students in so many effective ways."
No matter what, it all comes back to the relationships with the students for Lancaster.
"The question I most often ask myself when teaching in the classroom is how will these interactions, lessons of instruction or the activities we do guide these students to be better than before," Lancaster said in one of her award submission essays. "Student behaviors are the language of their needs and emotions, and many times resolving a miscommunication can create a more positive and successful atmosphere. I feel a strong need to be a safe space for these children, a friendly ear to lend, and show them that I am more human than what they see in the classroom."
Lancaster also said that she gets just as much from her students and they get from her. She calls it an "exchange of heart."
"We build this relationship where we give a little bit of ourselves to each other," she said in a video submission for the award. "And I get to see these pieces of me go forth into the world through each and every one of the students that I've taught."
Throughout her recognition year, Lancaster hopes to bring her voice to the conversations around support for small and rural schools, increasing the number of teachers of color in Minnesota and more focus on student and educator mental health.
"Mental health is a huge, huge issue that we need to address," she said. "I have experience with suffering from abuse and trauma as a child. A lot of kids are experiencing mental health issues due to the pandemic."
Lancaster knows that making sure students are safe and loved is so important but also knows that the secondary trauma to educators is something that needs to be addressed in schools, too.
"Within my classroom there is a community, and it is vital that each student knows their voice is heard and their well-being is cared for," she said in one of her award submission essays. "We have open communication, practice patience and empathy, and model conflict-resolution. I also ensure that each student feels validated and supported through these practices. This foundation of trust and understanding is what allows me to support my students as needed including their social, emotional and mental well-being."
Lancaster hopes to work with others to create relationships with students of color to connect them with the teaching profession.
"It's a long-term relationship commitment to solve the problem of our stagnant number of teachers of color in our state," she said. "How can we connect with our students of color and help them into the profession to better reflect our students' diversity?"
In addition to teaching, Lancaster has coached more than 20 seasons of both athletics and arts programs in Onamia, directing three of the annual high school musicals and volunteering with local youth groups as well as through her church. She currently serves as president of the Onamia Area Civic Association. Lancaster holds a bachelor's degree from St. Cloud State University and a master's degree in curriculum and instruction and design from St. Mary's University of Minnesota.
An independent selection committee representing Minnesota leaders in education, business and government chooses the Teacher of the Year from individuals who are nominated and who then choose to become a candidate. Education Minnesota organizes and underwrites the program. The Minnesota Teacher of the Year Program also receives support from the following organizations: Expedition Credit Union, the Harvard Club of Minnesota Foundation, EFS Advisors, Aviben and Education Minnesota ESI.