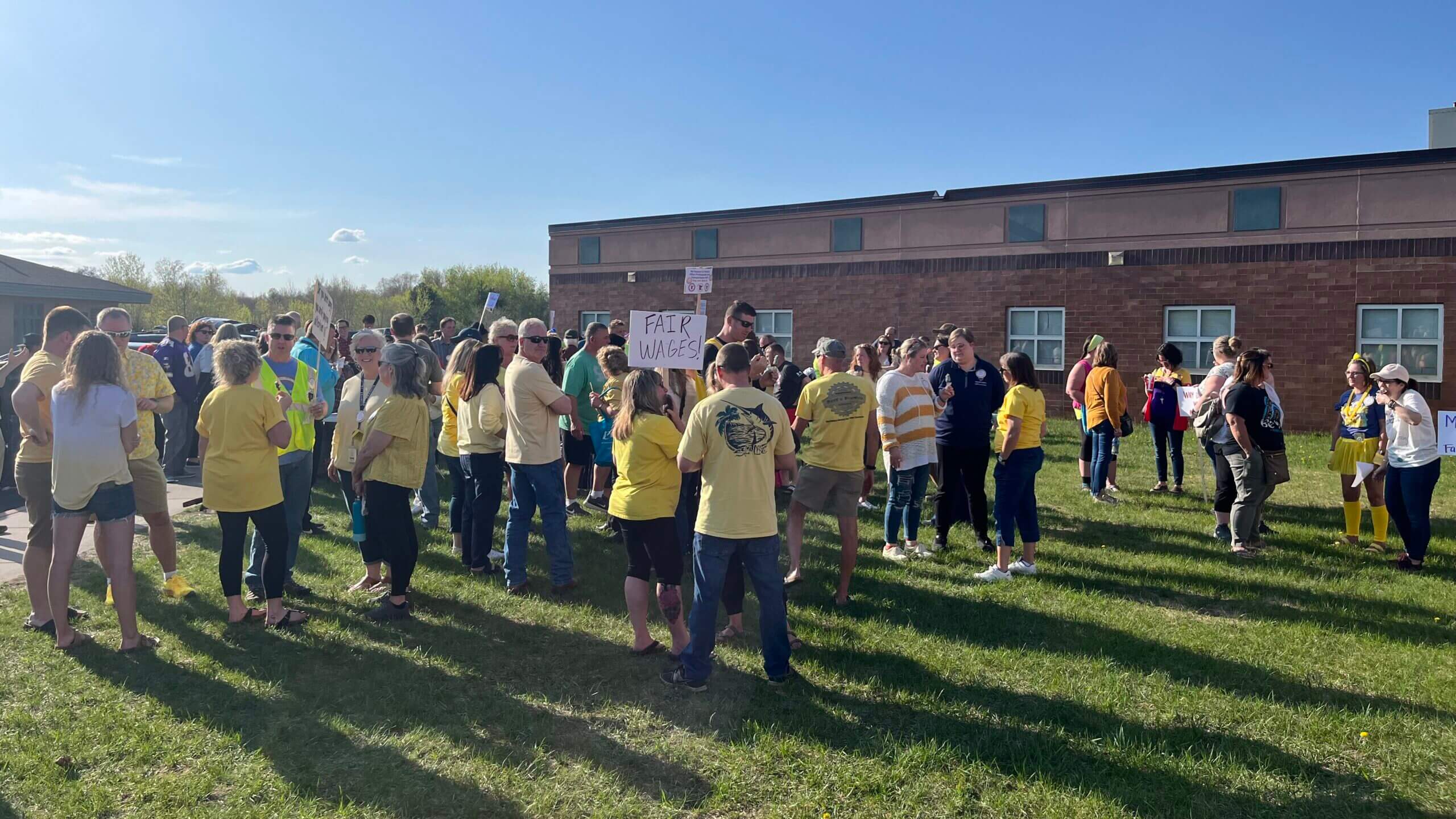 "We're worth more!" became the rallying cry in St. Francis when the office professionals and bus drivers bargaining units were building toward a strike if the district didn't settle contracts that respected and valued their work.
In April, the bus drivers passed a tentative agreement reached in their final mediation session before a planned strike vote and the OPs voted to go on strike, but ended up with an agreement in a mediation session the week before they were set to go on the line.
"We had been quiet and taken less for far too long, but we knew we couldn't continue to sustain ourselves and our families on low wages and high insurance costs," said Andrea Powers, a registrar at St. Francis Middle School and negotiator for the OPs. "It took some time and they had to hear us roar first, but we are pleased to have gotten this contract done."
The OPs and drivers are separate bargaining units within the districtwide union of Education Minnesota St. Francis, which also contains separate units of teachers, preschool teachers, education assistants and nutrition services staff. 
While in the same union and with the same contract timeline, the two units had never worked together on their bargaining campaigns. But as they both became frustrated with the lack of movement by the district, the two groups started working on organizing plans together—both internally and out in the community.
Together, they held rallies before the school board meetings, spoke at board meetings and did informational picketing in high traffic areas in the community. They started getting the word out about their asks in the community, something neither group had never done before.
"When you have been undervalued and unappreciated for so long, settling is very comfortable. It's easy. Coming together as a group, speaking out, demanding your worth, it's something that you can do," said Darci Brunette, a bus driver and negotiator for their unit. "We have grown as a group. We feel empowered, strong and that the sky is the limit if we stand together."
The issues for both groups were also the same—better wages and benefits.
"The bus drivers have been asked to work longer hours and have full buses due to the bus driver shortage," said Brunette. "Better wages was the No. 1 ask. More money per hour to help retain drivers and to show our drivers they are valued. Our district has not been competitive with surrounding districts with our hourly wages for a very long time, if ever."
The OPs were looking for wages that were comparable to surrounding districts but also increases to health insurance contributions. As the lowest paid workers in the district, they were paying the most for insurance.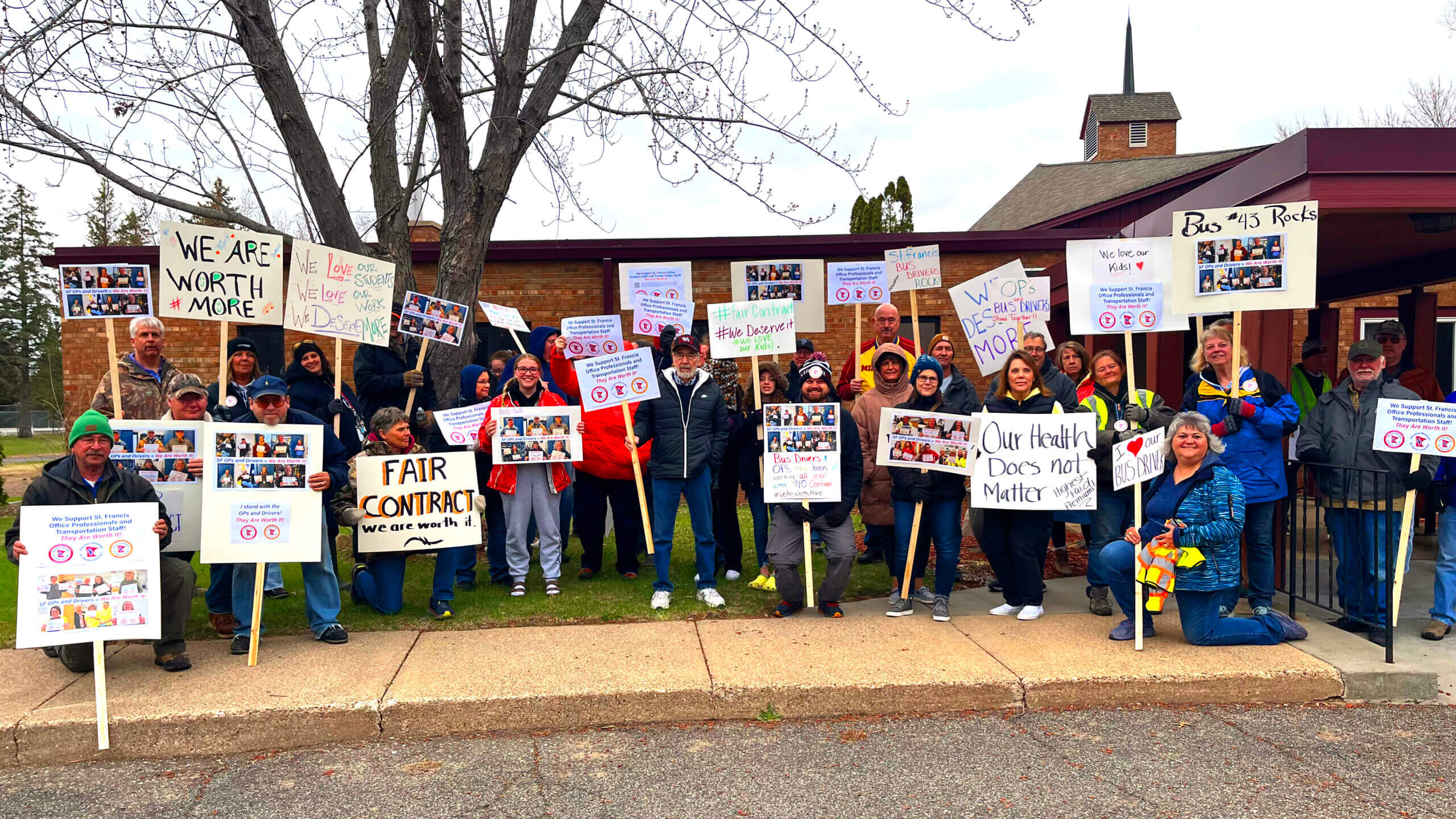 "We have been falling behind our surrounding districts in pay and are still currently the lowest," said Powers. "We have been given 2-3% raises while our health insurance premiums have risen an average of more than 4% every year. We have many OPs that work for health care, and some pay the district even after their paychecks don't cover the cost."
Even after the drivers settled their contract, they still showed up for the OPs' actions. The OPs voted down the tentative agreement reached with the district in April and immediately took a strike authorization vote. Eighty-six percent of the members voted to strike, after more than half of the membership voted down a tentative agreement.
"The district is sitting on millions of dollars in their fund reserve and are poised to get a historic amount of funding from the state—and they have employees making less than our high school students make at their after-school jobs," said Nancy Brunn, a registrar at St. Francis high school and office professional unit negotiator after the strike vote.
Just a week before they would have gone on the line, the OPs approved a new tentative agreement with the district, which included raises, a one-time stipend and a health insurance contribution increase—the first insurance increase any bargaining unit in the district has received in a decade.
"This contract is a step toward correcting the years of our work being underpaid and undervalued," said Brunn. "We will be back at the table again in a year when this contract expires, and we hope to keep building upon this."
Both groups know they have built increased solidarity within their units and with each other which they can carry through when these contracts expire in 2024.
"Our staff have felt alone in their frustrations with being underpaid and undervalued and they realized they were no longer alone. We are stronger than ever and excited to work together on our next negotiations," said Powers.
As licensed staff in the district and across the state head to bargaining, their union local president Ryan Fiereck said everyone should look to the units for inspiration.
"Not only have they shown education support professional unions across the state that they can ask for what they are worth, they have shown all educators that they do not need to settle for doing more with less anymore," said Fiereck, who serves as local president of all six bargaining units within Education Minnesota St. Francis.