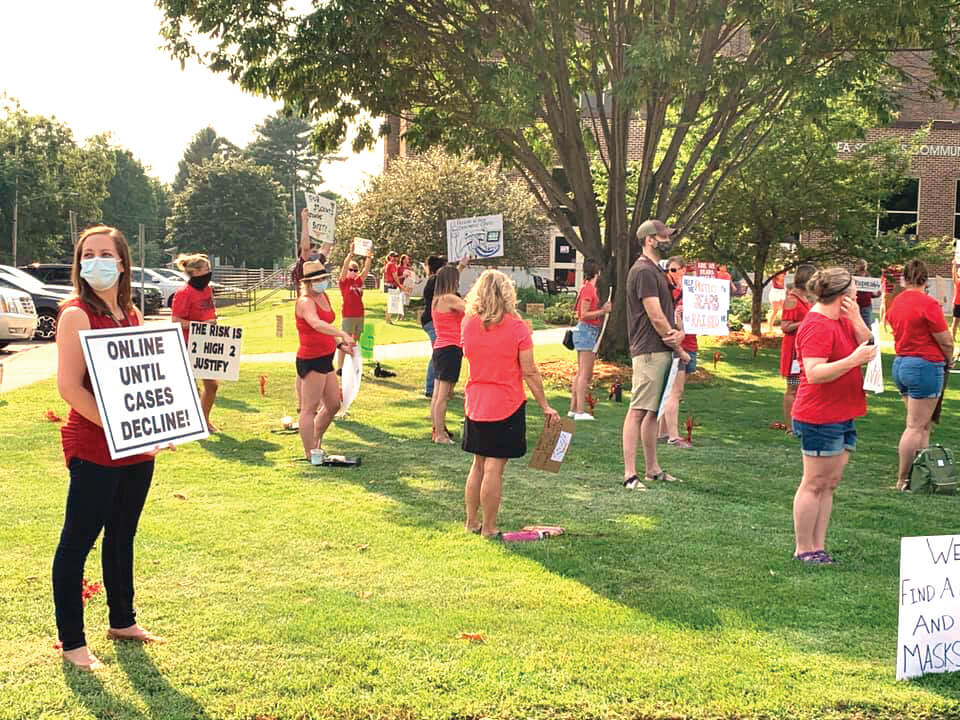 Local unions in many locations had a seat at the decision-making table from the beginning as planning took place. Many didn't.
"Learning safely is the goal," said Education Minnesota President Denise Specht, in a press conference before the start of the school year. "It should be done in-person when we can, and at a distance when we must. What is safe must be defined by the latest data, the best scientific analysis and with an eye on the racial disparities that haunt our society. Looking at county numbers is not enough. Learning models should reflect what is safe to do in buildings."
As plans took shape and accommodation requests came in from educators who were high-risk or who have family members who are high-risk, the need for local union support became clear.
"We expect district administrators to follow the law in regards to these accommodations," Specht said. "If they don't, our members can rest assured that their union will use all legal means at its disposal to protect the rights of the most vulnerable educators, and their families, during this pandemic."
Many local unions took this as an opportunity to organize.
In Buffalo-Hanover-Montrose, local president Natalie Polaschek was invited to reopening planning meetings, but her input was limited or went unheard.
The local took action before a school board meeting with a socially-distant rally outside, and Polaschek read a statement inside to the board.
"The teachers of Education Minnesota Buffalo know our classrooms and buildings better than anyone, and without our input, we fear the administrators of our district will miss important dangers to our students during this pandemic, and also opportunities to improve how we offer education to the children of our communities," Polaschek said her in board statement. "We ask that we have educator voices from all levels at the table to ensure our concerns surrounding cleaning and sanitizing, overall safety and social distancing at all grade levels are addressed."
After that action, more educators were invited onto the reopening task force. But the local still had concerns about accommodations requests being accepted. The local continued conversations with the district and their Education Minnesota field staff to make sure members' needs were being met.
In Anoka-Hennepin, one of the largest districts in the state, the concern was implementing and communicating a plan that kept all educators and students safe with many buildings and many employees, especially educators of color.
"As the district has developed its plan, educators have not heard a consistent message – whether that is about safety, ventilation, educator workloads, child care opportunities, assignments and more," said Anoka-Hennepin Education Minnesota President Val Holthus, in a press release before a rally outside a school board meeting at the end of August. "We want to be back in school with our students safely. We want our school buildings to not only reopen but to stay open safely. We want the district to make sure learning is safe for all students, and working conditions are safe for all educators."
The Anoka-Hennepin Teachers of Color Coalition wrote a letter to administration that outlined their concerns for safety.
"It is essential that you center their health and concerns to develop more creative and equitable solutions that provide educational access and meaningful participation and do not risk the lives and well-being of our beloved students, families and employees," the group said.
More than 300 educators attended the rally in Anoka, and afterward, the district worked with Holthus and other educators to start working through issues.
As school began, the district and union were continuing to work on many issues regarding safety, workload and accommodations.
Educators of color in Osseo also wrote a letter to administration outlining their concerns.
Education Minnesota-Osseo members held two "car rallies" in the parking lot outside school board headquarters to demand a safe and equitable plan.
The district delayed the start of the school year by a week, and started with two weeks distance learning before moving to hybrid.
In Bloomington, the union organized town hall meetings and informational sessions with members when the district's hybrid plan didn't seem safe or equitable.
Jessica Rice, a member of the Bloomington Federation of Teachers, said that the union started holding meetings about the plan and educators' rights, as well as doing surveys to see how members were feeling.
"Enough members emailed requesting leaves. Enough members spoke out of concern for safety," Rice said during an Education Minnesota leadership event in late August. "A week later, the district revoted and decided to go full distance."
The district will be in distance learning until October, because they determined they wouldn't be able to staff a hybrid model.
"We were able to shift the tide just by informing members of their rights," Rice said.
Organizing members is also what helped Cook County educators move their district to be fully distance learning until October.
"We had teachers on the planning committees this summer, so we knew the district was planning for full in person this fall," said teacher Amanda Hand, at the Education Minnesota leadership event in August. "We started surveying members and found that most didn't feel safe with in person or hybrid."
The educators started organizing membership meetings, developed talking points, spoke to the board, shared information on community Facebook pages and had parents and allies speak to the board.
Education Minnesota staff continue to work with locals as plans for fall and beyond evolve and the pandemic continues.
Please contact your field staff if you have any questions or concerns.
The COVID-19 resource page on our website is continually updated with more FAQs and information as well. Go to www.educationminnesota.org/resources/in-the-classroom/Coronavirus to see all of the information.