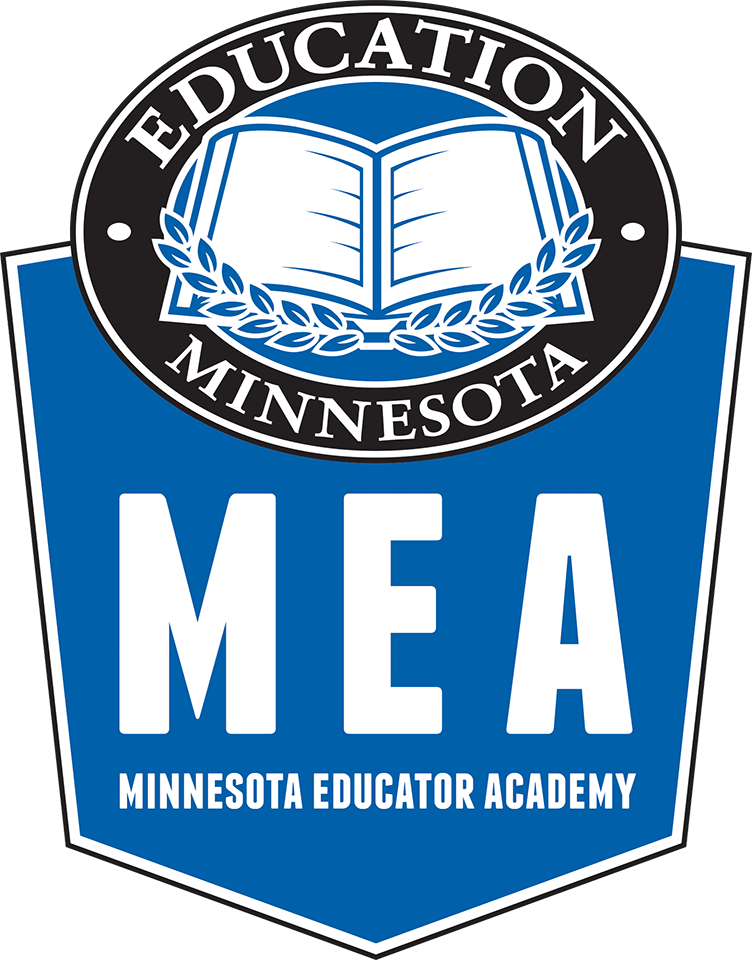 This year, your union will have both a traditional, in-person conference at the RiverCentre and offer a virtual conference on Thursday, Oct. 20.
The 2022 MEA conference lineup includes nearly 60 in-person workshops, focusing on racial equity in education, student and educator mental health, classroom strategies and much more. The virtual option will include a livestream of the general session and about 15 workshops offered in real time online, while another 50 courses are available on Education Minnesota's MEA Online for members to complete at their own pace.
Relicensure courses will also be available on Education Minnesota's MEA Online for members to complete at their own pace. Courses at MEA and MEA Online are always free to active Education Minnesota members.
What to expect this year:
In-person and virtual attendance is limited, so register early! Register in advance at edmn.me/mea2022. Same-day registration WILL NOT BE AVAILABLE. Deadline to register is Oct. 18.
Our exhibit hall will again be smaller and on the ballroom level with the workshops.
General session featuring keynote speaker Jennifer Berkshire
The 2022 MEA Conference will kick off with a general session featuring Education Minnesota President Denise Specht, Minnesota Teacher of the Year Sarah Lancaster and keynote speaker Jennifer Berkshire.
Berkshire is a freelance journalist and a host of the education podcast "Have You Heard." She writes about the intersection of politics and education and is known for her work uncovering the forces behind the "reform movement" whose real motives are to privatize public education.
Her passion for writing about public education started in 2006 when she took a job editing the statewide newspaper for AFT Massachusetts. Berkshire went on to start a blog called EduShyster and now writes for the Nation, New Republic, Baffler, New York Times and other publications. She's also the author of two books: "A Wolf at the Schoolhouse Door: The Dismantling of Public Education and the Future of School" and "More Worlds to Negotiate: John Dunlop and the Art of Problem Solving."
Berkshire teaches in the journalism program at Boston College and in the Education Studies program at Yale University. She is a licensed public school teacher and lives in Gloucester, Massachusetts.
COVID-19 safety protocols
To keep attendees and trainers safe and control the spread of COVID-19 in our communities, Education Minnesota strongly recommends, but does not require, that all attendees, regardless of vaccination status, wear face coverings at the MEA Conference. Any attendees who test positive for COVID-19 or who have symptoms shortly after the training should contact Education Minnesota so that we can notify trainers and other attendees.
If you have any questions or concerns, please let staff or trainers know as soon as possible so they can be addressed before the training. We appreciate your support in observing these protocols until further notice.
Free child care for Education Minnesota members
Education Minnesota is offering free child care for members during the MEA conference. Registration is required, so sign up now at www.educationminnesota.org/events/annual-events/mea-conference.
Take credit
You may be able to earn general continuing education credit for attending the MEA conference. Pick up an attendance certificate at the end of any workshop you attend. In addition, some sessions might help you fulfill state relicensure requirements in reading instruction, identifying early-onset mental illness in students, positive behavioral interventions, English language learners and suicide prevention. Check with your district's continuing education committee on whether you will receive credit.