The 2020 Minnesota Educator Academy (MEA) conference will be held virtually this October due to the COVID-19 pandemic.
It will feature at least 20 live sessions via webinar Thursday, Oct. 15, including keynote speaker Dr. Bettina Love. There will also be new relicensure course offerings on Education Minnesota's online learning platform LearnUpon for members to complete at their own pace.
You can still earn continuing education credit, network with your peers and win prizes at Minnesota's largest professional development event for educators. To plan your visit, check out the schedule on our website for complete workshop details as they become available.
QUICK FACTS
When: 9 a.m.-4 p.m., Thursday, Oct. 15
Where: Online! Registration available soon.
Courses will be added as they become available.
Admission: Free and open to Education Minnesota members only.
General session: 9-10:15 a.m.
Workshops: 10:30 a.m.-4 p.m.
Exhibits: Virtual
Asynchronous courses on LearnUpon
Education Minnesota launched LearnUpon this spring. Members can access our online catalog of professional development to improve their professional practice, earn CEU credits for relicensure and build union understanding and power.
Here are the courses that will be available for members by Friday, Oct. 16 (more might be added):
Cultural Competency Training Parts 1–4
Reading
English Learners
Student Mental Health
Culturally Responsive Teaching Through a Racial Justice Lens
Degrees, Not Debt
Families First Coronavirus Response Act
Member Benefits
Building Representative—Roles and Responsibilities
Certified Negotiator Program for Education Support Professionals
Certified Negotiator Program for Teachers
MRA I: Member Rights Advocacy Training
Worksite Unity Leader Training Part 1
Help us promote MEA!
Post on Instagram and Twitter about your favorite MEA moments using #MEAmn20 for a chance to win a 256GB iPad Pro. Each post counts as one entry.
Take credit
You may be able to earn general continuing education credit for attending the MEA conference. An attendance certificate will be emailed to you after you complete the live workshop or LearnUpon session. In addition, some sessions might help you fulfill state relicensure requirements in reading instruction, identifying early-onset mental illness in students, positive behavioral interventions, cultural competency, English language learners and suicide prevention. Check with your district's continuing education committee on whether you will receive credit.
Dr. Bettina Love to deliver keynote on abolitionist teaching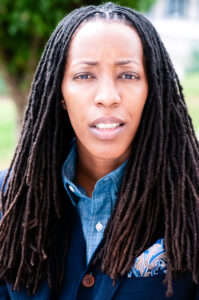 Dr. Bettina Love will discuss the struggles and possibilities of committing to abolitionist goals and fighting for an education system where all students are thriving, not simply surviving.
The University of Georgia professor and award-winning author is an esteemed educational researcher and highly sought-after public speaker. Her writing, research, teaching and activism are centered around how educators, parents and communities can build schools rooted in abolitionist teaching and equitable classrooms that love and affirm Black and brown children.
Love speaks on a range of topics, including anti-racism, hip-hop education and feminism, Black girlhood, queer youth and art-based education to foster youth civic engagement.
She is the author of the books "We Want to Do More Than Survive: Abolitionist Teaching and the Pursuit of Educational Freedom" and "Hip Hop's Li'l Sistas Speak: Negotiating Hip Hop Identities and Politics in the New South." Her work has appeared in numerous books and journals, including the English Journal, Urban Education, The Urban Review and the Journal of LGBT Youth. She also has provided commentary for various news outlets.
Love co-founded the Abolitionist Teaching Network (ATN) in 2020. ATN's mission is simple: develop and support teachers and parents to fight injustice within their schools and communities.