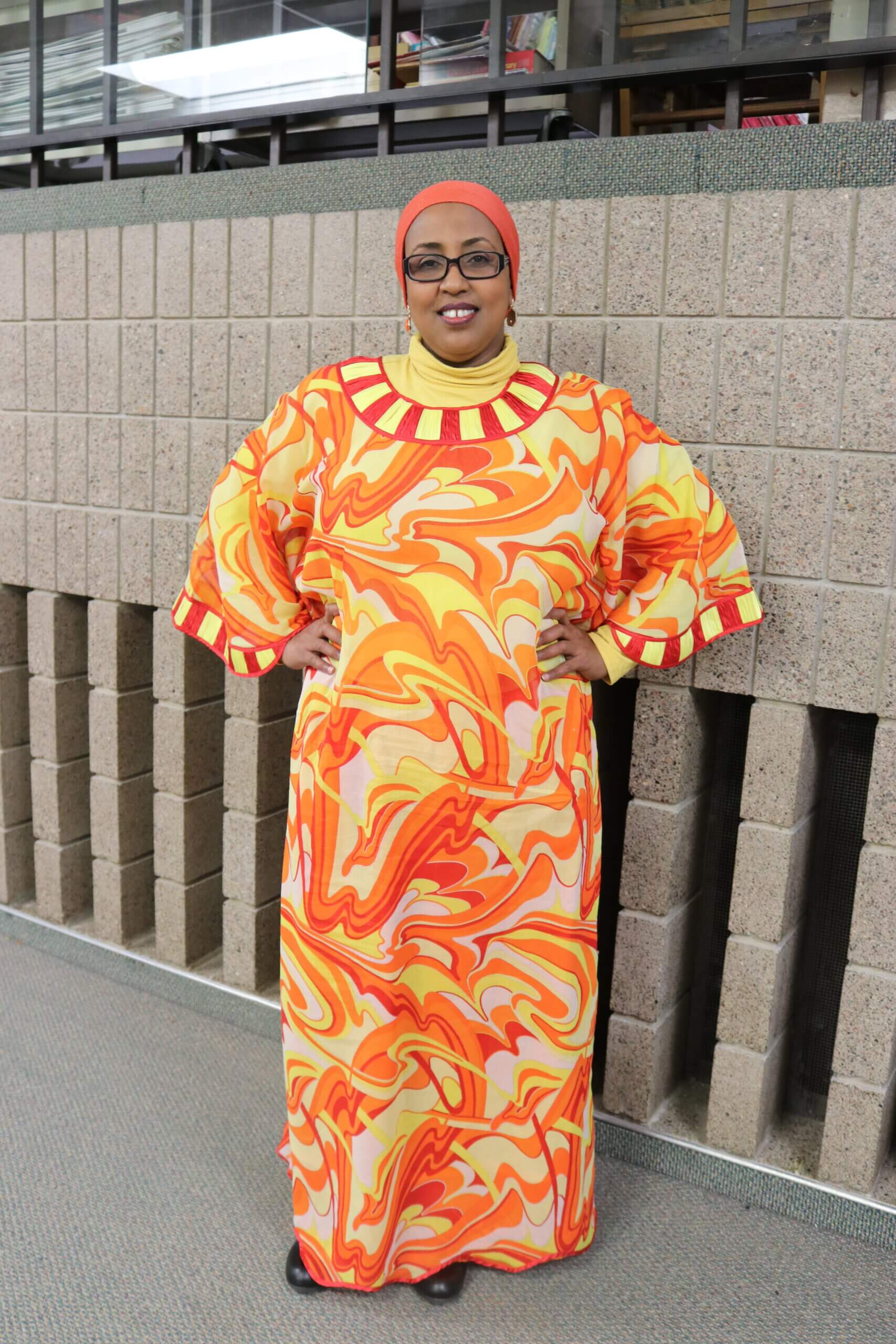 Two years ago, a mother dropped her children off at Four Seasons A+ Elementary School in St. Paul and asked to use the restroom. Yasmin Muridi, a bilingual family liaison at the school, saw her and asked if everything was OK. After a brief conversation, Muridi discovered the family was just evicted from their home and had spent the night in their car. So she got to work.
Muridi talked with the school social worker, went to the county, connected them with a local church and helped them find a home. The children are still at Four Seasons and are thriving, Muridi said.
"The community helped them. I just helped bring them together," Muridi said.
Bringing the community together is what Muridi does every day and is big reason why she was named Education Minnesota's 2019-20 Education Support Professional of the Year.
Muridi has been a bilingual education assistant and family liaison in St. Paul Public Schools since 2014.
There is no "typical day" for her, Muridi says, but every morning she checks in with her students to make sure they made it to school and are doing well. She always has her phone with her, as she receives calls from parents at all hours of the day and night.
She has helped parents find the urgent care clinic closest to their home, coordinate transportation, and works to build the bridge between home and school for families, many of whom are new to the country.
"This fulfills my life to see parents have the right resources," Muridi said. "I connect them with what they need, but then I also help them be independent and be an advocate for their kids."
This is much more than a job for Muridi, and the extra hours and financial resources she spends to help her community and school do not go unnoticed.
"She goes above and beyond the educational work," said Patty Nelson, a kindergarten teacher at Four Seasons. "She buys toys and food. She comes to us to find out what worksheets or activities the students might need. She gives anything and all to the kids."
Nelson and Muridi work together to connect with families through the St. Paul Federation of Educators' Parent Teacher Home Visit program. Muridi is also a trainer with the program.
"She knows what home visits mean to our families," said Nelson. "And she keeps the families involved."
Muridi knows that first connection with families can be an important piece of a child's educational success.
"Going to a home visit can change everything," she said. "They see a person who cares about them, who wants to know them. I can talk with the students in a very personal way. I know their pets. We have that bond we didn't have before."
Muridi also takes those visits as an opportunity to talk to parents about the importance of early education.
"In the summer, I knock on the doors of families I worked with and make sure they register younger children for pre-K," she said. "We are not paid for that, but we want our communities to have those opportunities."
Muridi also helps direct the Academic Parent Teacher Teams (APTT) conference program with the district. This model brings in families multiple times a year for a longer, more collaborative way of doing conferences.
"Because of the trust families have in Yasmin, her school had one of the highest turnout rates last year," said SPFE President Nick Faber, in his recommendation letter to the award selection committee.
Muridi sets up the conferences, orders food, organizes transportation and child care and makes sure the events run smoothly.
Muridi has also created events at Four Seasons. She has organized a cultural fashion show, a traditional dance and music event and a Ramadan meal.
Muridi started the Ramadan meal because she knew Muslim families might miss out on the school's spring musical because they would be preparing and sharing a meal that evening. She bought all of the food for the first event which was atteneded by 50 people. The next year, those families brought in food and invited others from the community. Then the school opened it up to any family to attend. This year they had more than 500 people come and celebrate.
"When we talk about the Four Seasons family, a lot of people only see what's inside with these walls," said Holly Magner, a science teacher at the school. "I've never seen an ESP take on this leadership role of bringing the community into the family. It extends it so deeply. She has taken it to the next level of partnering with families."
Muridi makes every family feel welcome, said Magner.
"She has a family liaison superpower," Magner said. "We can do our best teaching when we know Yasmin is there with us. She has the bond and respect in the community. She is a partner in their education. They will learn more and feel a part of this school, because she cares and will build that bridge."
Muridi's community building doesn't stop with her work in her school.
She works as an interpreter for other area school activities and meetings. Muridi speaks Somali, English, Arabic and French.
Muridi also has taken Citizens Academy classes with the Saint Paul Police Department and works with youth, especially young women, in her community through that program to ensure they are safe and successful.
She is leader in her community organizations for Indigenous women and women of color, with the Horn of Africa Community organization, her Mosque and many more organizations.
Muridi has also been a member of SPFE's executive board and negotiations team. She also helps coordinate and teach professional development through the union.
"Yasmin lives the values of traditional, professional and social justice unionism," said SPFE member and leader Ellen Olsen in her recommendation letter. "I am better, and Saint Paul Federation of Educators is better, for all of her involvement."
For Muridi, she says she is following the example her mother set for her.
"She went around in our community," she said. "She would go advocate for anyone. She was always helping."
In her application for the ESP of the Year award, Muridi wrote that she wants to see those families and students she works with find their pathway with confidence.
"I'm going to move mountains for them," she said.
Muridi now becomes Education Minnesota's nominee for the National Education Association's ESP of the Year award.