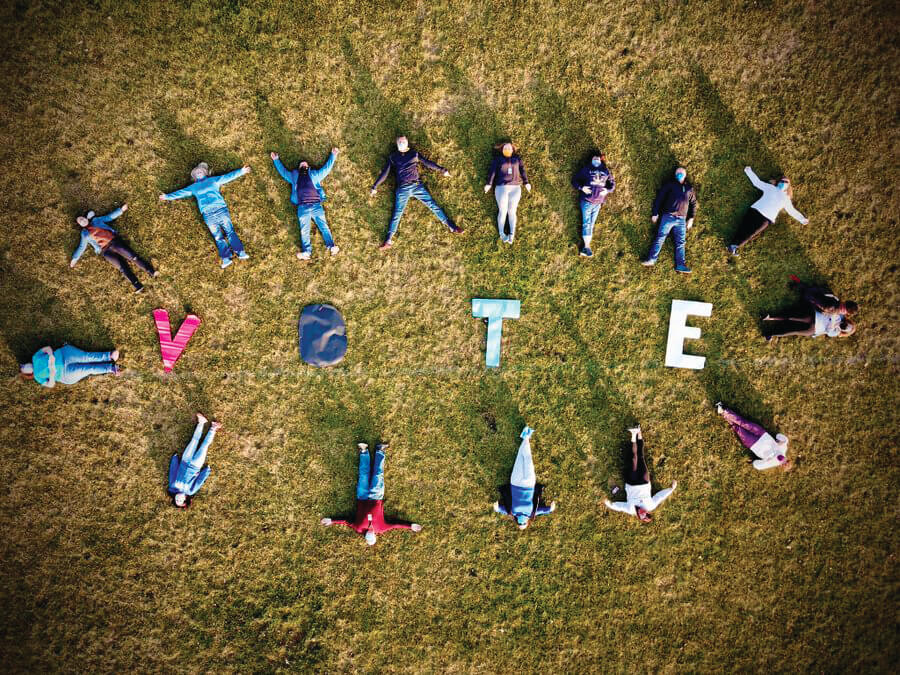 In 2018, Education Minnesota launched a program where educators talked with their colleagues about the importance of voting. This year, the program added in talking with friends, family, parents and community members.
The Worksite Unity Leader program trained hundreds of educators in 2020 throughout the state who were ready to work toward electing pro-public education candidates and continue that work into the 2021 legislative session.
"The Worksite Unity Leaders have done amazing work, in the most challenging conditions, connecting with their colleagues, communicating with parents and organizing events that are fun, engaging and safe," said President Denise Specht, in a press conference highlighting the work of the program Nov. 2.
Throughout the year, these leaders were adjusting their plans due to COVID-19 and changing learning models, but they still found ways to connect with colleagues and others.
"What this fall did provide was a concrete example of how the union works for its members, and how elected leaders directly impact our work and how our students learn," said Jinna Collins-Jwacu, a worksite unity leader at Monroe Elementary in the Anoka Hennepin district, during the Nov. 2 press conference. "Our elected school board is the one who decides when and how we work in a pandemic. Our elected leaders at the state and federal level are responsible for providing the funding and resources to make sure everyone can be successful as we teach and learn in completely new ways."
During the fall, Collins-Jwacu and her colleague who joined her as a Worksite Unity Leader shared information about voting and even made a bulletin board in their staff lounge where people could share their vote plans and if they had voted early.
Actions like that were taking place in buildings throughout Minnesota this fall. Educators who were teaching virtually got creative with videos, social media posts and texting.
In New London-Spicer, educators took selfies with their "I voted" stickers or when they were mailing or dropping off their ballot, and then shared them on their social media channels.
"They shared them on their own social media pages and with their own networks, with a message about why they are voting," said Tracy Detloff, union leader and worksite unity leader, at a leadership assembly ahead of Election Day. "People have been saying things like, because our opinion matters, because our voices count and our students are counting on us. We're making a local Instagram page and posting them all."
"It has been a challenge to make connections with our members while teaching during the pandemic, but they have stepped up and thought of unique ways to build relationships and share information about how important this election is to public education," said Jenifer Stehr, a special education teacher in the Rosemount-Apple Valley-Eagan school district and an organizer with the Dakota County United Educators.
In the weeks leading up to Election Day, Worksite Unity Leaders started planning get-out-the-vote actions. Education Minnesota mailed each member a window cling that said "I vote for public education" and many educators used that to connect with a community member and share a window cling with them, too.
Worksite Unity Leaders planned more than 110 get-out-the-vote events in the week leading up to and on Nov. 2, as a final reminder to their colleagues and community.
Duluth Federation of Teachers members stood on a busy intersection in their schools neighborhood with signs saying "Vote!"
"As elementary school staff we are teaching children every single day about citizenship," said Stacey Achterhoff, the DFT member who organized the event, at the Nov. 2 press conference. "We teach children to be inclusive, to stand up to bully behavior and to engage in civil discourse. Voting is an active way to be a part of our community."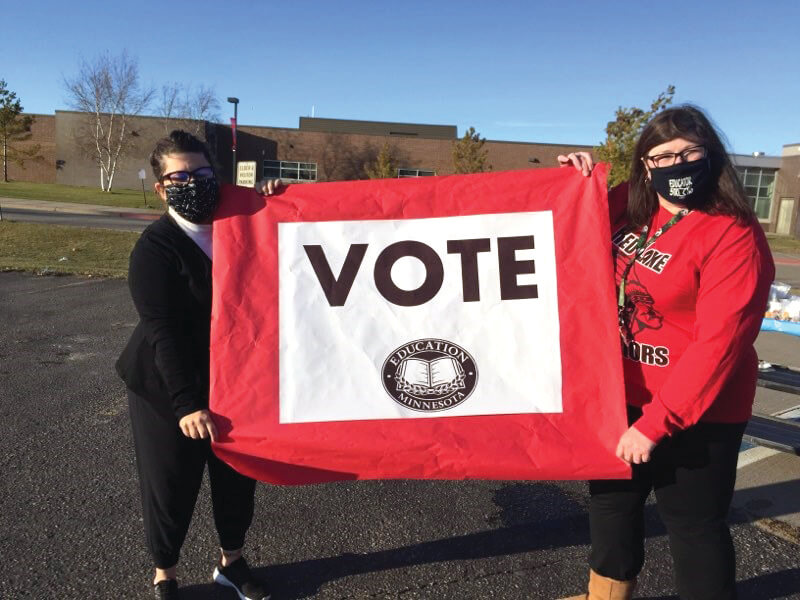 In Rosemount-Apple Valley-Eagan, educators held a variety of different events, said Stehr at the Nov. 2 press conference.
"Our unity leaders have been handing out doughnuts as members entered their school in the morning to remind them 'DONUT forget to VOTE,'" she said. "We've also had 'Bagels and Ballots' to give members information on how to vote early and to help them with their voting plan. Unity leaders have also been very creative, and have had bingo games to participate in during the debates, made music videos, selfie contests with their 'I voted' stickers."
But the most creative event may have taken place at Eagan High School and Dakota Hills Middle School, where a unity leader rented three goats and had them at the entrance of school this morning where members got to meet the goats and vote for their favorite for a raffle prize. They called it "The Great Minnesota 'Goat' Together, Vote Together."
Collins-Jwacu knew it would be harder to get her staff to do an event on Nov. 2, since they had a professional development day. So in the weeks prior, she bought white masks and fabric markers and created an art station in the staff lounge.
"We sent a note encouraging our colleagues to decorate a mask to wear with students and parents to show their commitment to vote," she said.
But members know that the work didn't end on Election Day, but that Education Minnesota's Unity Campaign now moves to holding elected leaders accountable for supporting public education, educators and students.
"This fall, we really have been talking to each other, whether or not we agree with each other, about voting," said Detloff. "No vote means no voice, and you don't get to have an opinion. This is where you get to make a change and make a difference for the future of ourselves and our students."
"That's why it's so important for people to be involved with Education Minnesota's Unity Campaign. When Election Day is done, the real work begins. This is just a prep for everything to come."
Election stats
More than 49,000 Education Minnesota members, including retired and aspiring educators, voted early. And while we won't know if we reached our goal of 100 percent of all members voting until early 2021, we do know Minnesotans once again voted at a record rate.
Current and former Education Minnesota members were elected to the Minnesota House and Senate. Congratulations to:
Rep. Julie Sandstede
Rep. Dean Urdahl
Rep. Paul Marquart
Rep. Jennifer Schultz
Rep. Cheryl Youakim
Sen. Jason Isaacson
Sen. Mary Kunesh-Podein
Sen. Steve Cwodzinski