The Bloomington Federation of Paraprofessionals' contract has been unsettled for more than two years. And after working during a pandemic, many of whom were on site providing essential child care from the start, the local union decided to take its negotiations fight public.
"Our members have gone through a lot," said Bill Schwandt, the local union president. "We're fighting for some equity and we're fighting for respect."
This spring, the union decided to do informational picketing and inform the community about their unsettled contract.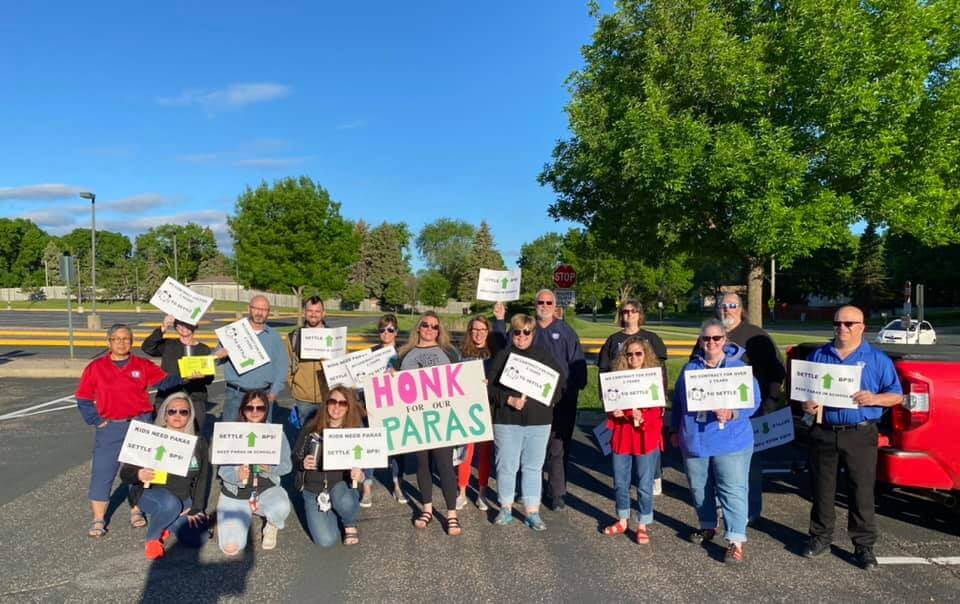 "We had days of 20-plus people there, on their own time, at different schools throughout the district," Schwandt said.
Members were at 14 different schools in five days, standing on the streets outside buildings, holding signs and passing out information about how negotiations have been going. They asked community members to reach out to school board members to ask them to settle their contract.
The biggest sticking point is wages. The union has asked for a 40-cent an hour raise, adding steps and reducing the number of years on their longevity steps. The BFP is also asking for a one-time bonus for working in the pandemic.
The district negotiates where they say, "We're going to do a 2 percent increase for everybody," said Schwandt.
"What does an admin get on a 2 percent raise at their six-figure salary? And a para getting a 2 percent raise comes out to $400 a year," said Schwandt. "It barely amounts to an extra bag of groceries a month."
Especially as the pandemic continued and the paraprofessionals continued working in person, assisting with online learning, providing child care and delivering meals, the members knew they wanted to fight for what they know they deserve.
"When we did a survey when we started bargaining two years ago, 42-44 percent percent of the paraprofessionals in Bloomington are the primary wage earners," said Schwandt. "And 60 percent of paras are working at least one extra job, if not two. They tell us we are important and vital parts of our programs, but pats on the back don't pay the bills."
"How much energy does someone have for their students when they are working nights and weekends to make ends meet? The district has an opportunity to right the ship. As everybody's salaries increase, ours stay stagnant."
The stagnant and inadequate wages are also showing up in the district's ability to hire paraprofessionals, said Schwandt.
As of press time, the BFP and district's last proposals were only about $83,000 apart, but the district wasn't moving.
"That's about four open para positions that they have budgeted," said Schwandt. "That money is there. Not to mention the ESSER funds where Bloomington is slated to get more than a million."
Schwandt is now looking at an option to settle two two-year contracts as they are approaching the time they would normally start to talk about bargaining their next one.