President Denise Specht and Secretary-Treasurer Rodney Rowe took office for a fourth three-year term July 1. They are joined on the leadership team by new Vice President Monica Byron, an elementary teacher from Richfield. The Minnesota Educator sat down with the union's leaders to discuss their vision for the next three years.
Minnesota Educator: What can members look for as the new team takes office?
Denise Specht: There is also a new Governing Board taking office this summer. We'll be taking some time to get to know the new board as a whole and identify new priorities. This is an ever-evolving union, changing as the world does. Members can always expect a strong and vibrant union that works to make their lives better at home and at school and helps support public schools that build communities and help students achieve their dreams.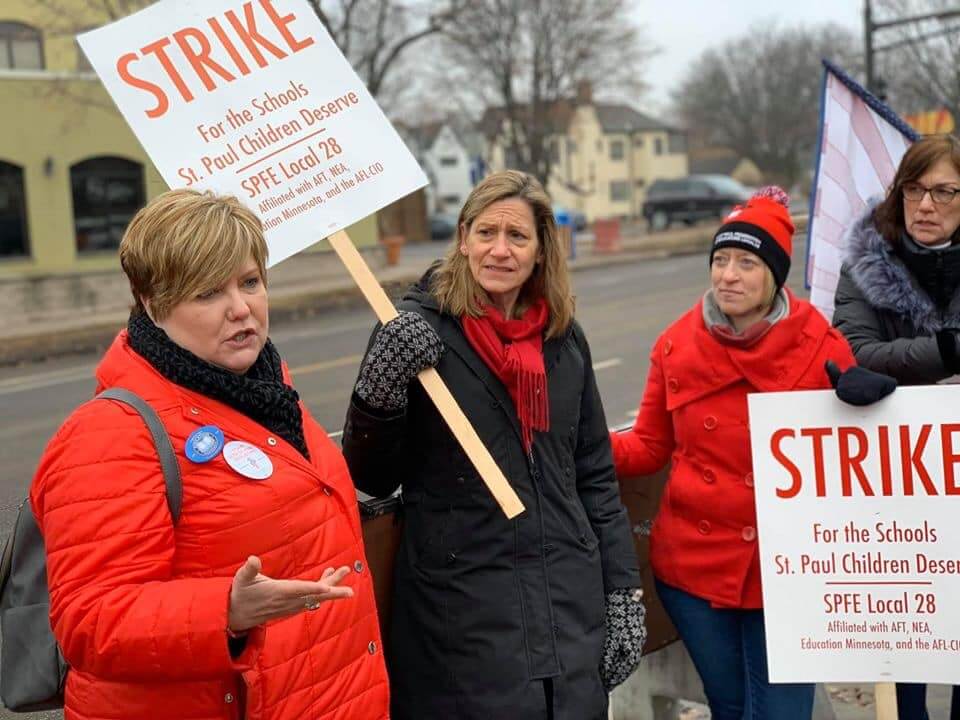 Monica Byron: We want to stay proactive and adapt to the needs of our members and the changes we are seeing in public education.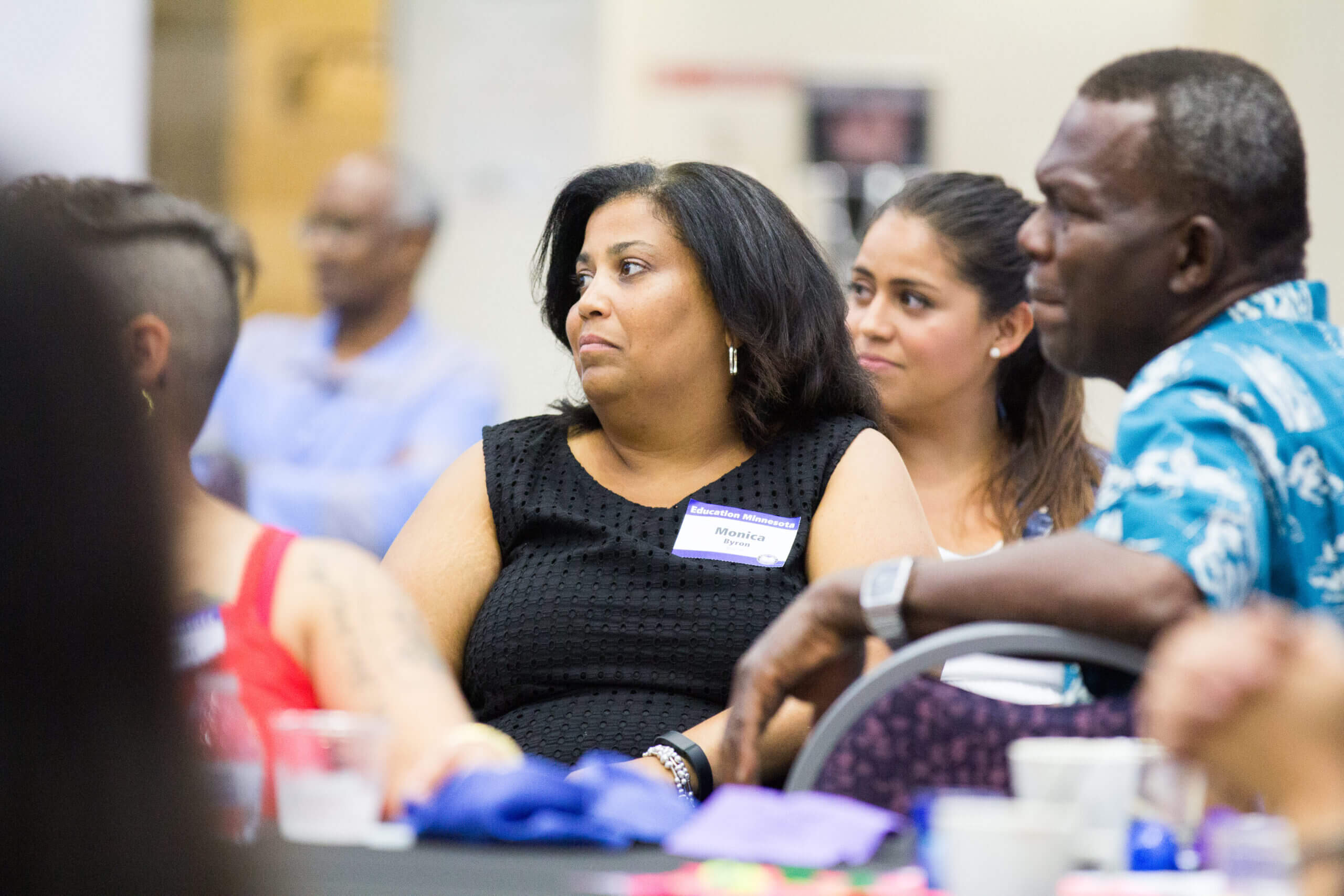 Rodney Rowe: There have been a lot of changes in education and our union in the last few years, and there will continue to be changes. As always, we will navigate that and remain strong.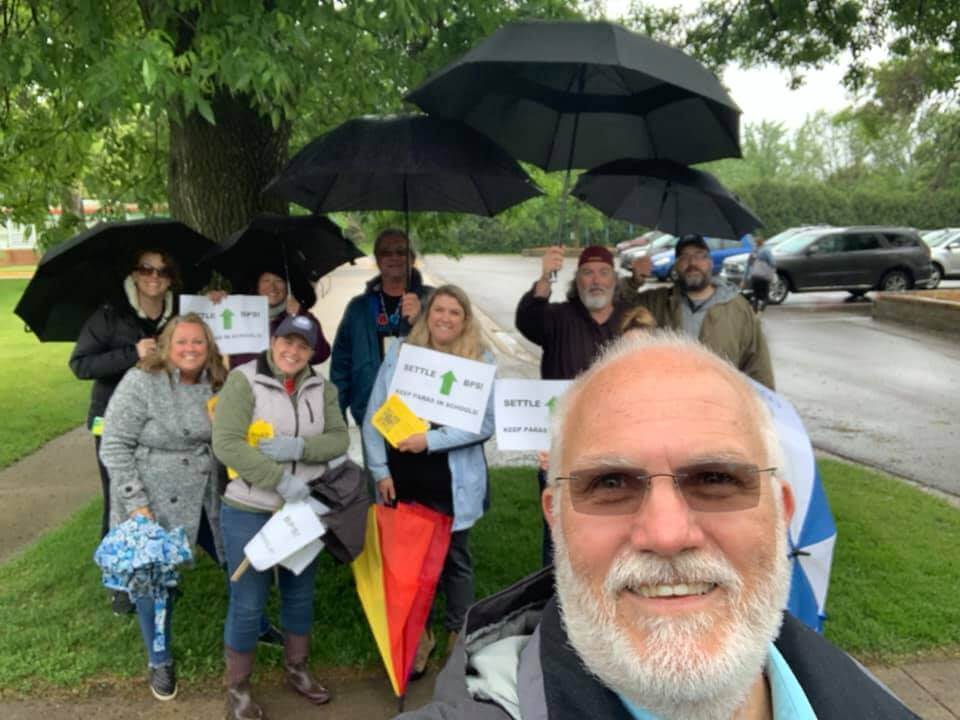 Minnesota Educator: How will you approach the next three years, especially after what we have been through the last two?
Monica Byron: I will bring a lot of what I learned last year working in classrooms. My job last year was to support because I was a math coach. I subbed a lot and my role could look different. every day I learned to be flexible and support however I could. As educators, we don't give ourselves enough credit for all that we can do. We are professionals who know the work that can be done and there's power in what we can do. Since 2020, my local union really worked hard to engage members. We probably had more meetings than we ever have had. We worked together on a lot of issues that came up—not just building-by-building but districtwide. I want to do what we can collectively to support educators all across the state.
Rodney Rowe: The sub shortage, the educator shortage—these are going to continue to be issues. We hope to work to bring back the respect to this profession and get educators back into buildings.
Denise Specht: The questions I heard a lot in the last two years was, "what is the union doing for me?" or "what are you doing fix this?" That's a natural question that I completely understand, but if it was just that easy, we would do it! But the union is all of us. It's going to take all of us to tdo what is necessary to make the changes needed at home and in schools. We are a powerful union, but we don't just walk into rooms and bang our fists and get what we want. If we did have that, we would have class sizes of 10 and everything on our wish list. Every local union we visited in the last year, we left feeling their sadness and hopelessness. We left in tears many times. There was so much frustration of, "We have to do something, we have to do something," and many of them were just happy we were listening. Now we have to continue to listen but move to collective action. We are most powerful when we are taking collective action together and that is how we move forward.
Minnesota Educator: How have you seen the union adapt and change?
Rodney Rowe: We have seen how we can adapt our work in this new world. We see hybrid union meetings, online professional development and our members won't allow it to go back. We see MEA Online and how many members are using that free service from their union, but we now can also start weaving in in-person meetings when we need to and balance it all.
Monica Byron: I've seen Education Minnesota really be proactive and we will continue to be forward thinking.
Denise Specht: You hear people talk about the three pandemics—COVID, racial reckoning and economic. Those three pandemics have focused our work and focused our priorities in ways we never would have imagined. We have had to evolve, focus and prioritize and hopefully we've all become better because of it.
Minnesota Educator: What is something you are proud to have worked on through the union and hope to continue working on?
Rodney Rowe: We have seen the resiliency of our educators—that love of education. Even in the toughest times, they still show up every day for kids. Every local had to find ways to meet student needs and adapt. Name me a profession that can adapt and change the way we have in the last two years. There are so many challenges and it's been very hard, but the kids still make it worth it. I hope we can just continue to build on our successes and make the changes we need in education through our union's collective voice.
Denise Specht: I'm really proud of how we've seen educators speak up for what they need and what their students need. Educators are raising their voices and they are starting to say no instead of yes. We aren't quietly accepting things we know are wrong. The University of Minnesota Safe Learning Surveys showed that members identified their own mental health as a concern. That's not a good thing of course, but we're not sweeping those issues under the rug anymore. We are being open and honest about what we need. We don't have to be super people. When educators aren't doing well, students don't get what they need. We have to speak out in order to get what we all need to be successful.
Monica Byron: Union is the best five letter word I can say. In Richfield, we had a workload committee, made up of our local union members and administrators. That is where we could raise the issues of not getting prep, not getting subs. We would meet immediately and find a fix, do an MOA or keep it for bargaining. I hope to share this idea with others and elevate ideas like this across the state.
Minnesota Educator: What is a specific project or initiative that you are looking forward to working on most?
Denise Specht: Economic disparities, how COVID was handled, racial and social justice—those things are going to be a focal point of the 2022 election. We always talk about this being the most important election of our lifetime, but what educators and their families have gone through in the last two years only emphasizes why this one is really important. I hope people are resting this summer, but we can't rest too long because we need to get those elected who will support educators, their students and their families.
Monica Byron: Supporting members, their families and communities. I look forward to going out and meeting with members. I want to be able to lend my voice, especially as an African-American woman, in this role. I want to do what I can to support our work legislatively and electorally—starting with getting education-friendly candidates elected across the state.
Rodney Rowe: I look forward to continuing to work with locals individually so they are strong and vibrant and have the support they need. We want to help them run successful school board races and levies. How can we help those communities and relationship building, so that they look to their union for support on all of those things?