Executive Director Carrie Lucking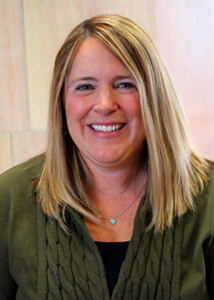 Carrie Lucking became executive director of Education Minnesota in November 2021.
Lucking is a former social studies teacher. She has served as the union's director of policy and public affairs since 2020. Before that, she was the union's Director of Policy, Research, and Outreach.
In her time at Education Minnesota, Lucking led the Education Minnesota department that supports the union's think tank, the Education Policy and Innovation Center, which produced reports on topics including helping students recover from disrupted learning, reforming school discipline, expanding preschool and full-service community schools and recruiting and retaining teachers, especially teacher of color. She also worked with staff and members on engaging educators of color, developing the FIRE anti-racism programs, and supporting educator professional development.
In 2018, Lucking took a leave of absence to manage the Walz/Flanagan gubernatorial campaign.
Before coming to Education Minnesota, Lucking served as executive director of the Alliance for a Better Minnesota, where she was the chief strategist for 29 legislative campaigns and coordinated communications research for progressive organizations throughout the state.
Lucking spent the first 10 years of her career as a social studies teacher, where she was active in the Hopkins Education Association and sat on the governing board of Education Minnesota. She also coached the high school debate team, which does not surprise anyone who has met her.
Education
Bachelor of Arts in Social Studies and Education
Master of Arts in Education Policy
Personal
Lucking and her husband, Bob Hume, live in Woodbury with their 7-year-old daughter Reese.
Email address