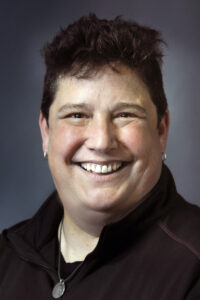 At-Large Zone 6
Represented by: Kate Schmidt
Email address: kate.schmidt@edmn.org
Local/affiliate: Dakota County United Educators #2006
Job title: DCUE president
Grade level/subject: Elementary teacher on leave
Term ends: June 30, 2023
Philosophy of service as a board member: Education Minnesota must continue to be actively involved in education in the state of Minnesota. Our members are the experts on education and we need to use our collective voices to lobby for sound educational policies. I am committed to serving all educators of our state by working toward reliable funding and reasonable mandates for schools. I will also work for affordable health care, quality staff development and training, a safe and healthy workplace, and Rule of 90 pension benefits for members. Furthermore, I am dedicated to listening to all members and being their voice on the governing board. Together I believe we can protect the value and importance of public education in Minnesota.