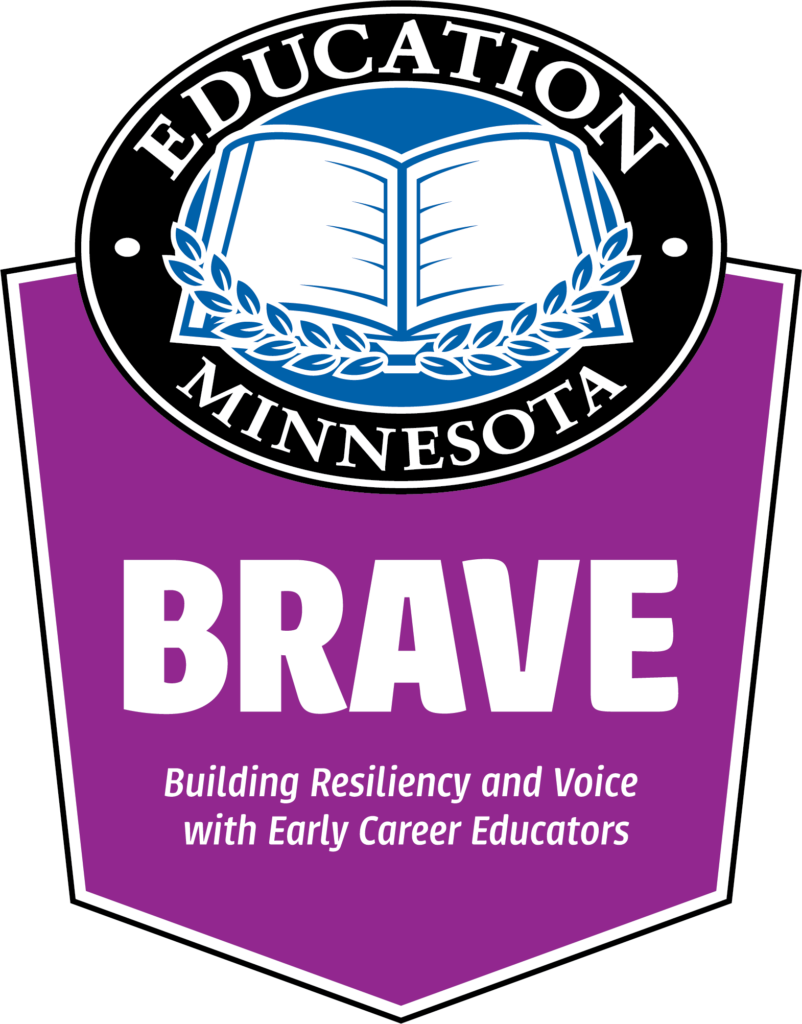 Building Resiliency and Voice with Early Career Educators Facilitator Application
We are looking for engaged members to share their experiences, their support and their enthusiasm for learning with a small cohort of early career educators.
Position Description:
Using our central course text, Elena Aguilar's Onward, as a guide, BRAVE facilitators will receive training, materials and resources to help lead a monthly professional development seminar focused on building educators' resiliency and voice in our profession. Each month's session will focus on a unique curricular topic that centers on both learning and advocacy: from trauma-informed instruction to educator first amendment rights to racial and social justice. And, most importantly, this five-session, cohort-based course will provide our early career educators with both time and a safe space to connect with newer colleagues from across the state who are facing similar systemic concerns in their own locals.
Cohort Facilitator Responsibilities:
In order to apply for this professional leadership opportunity, members must:
have a minimum of five years' experience as a licensed educator in a school setting
attend a full-day, in-person Facilitator Training at the Education Minnesota Headquarters (41 Sherburne Avenue, St. Paul, MN 55103) on Saturday, December 2nd. Mileage and meals will be provided (and hotel accommodations, if needed, for those who live greater than 35 miles from St. Paul.)
meet via Zoom for 45 minutes once each month (from January through May) with the BRAVE Program Coordinator and fellow facilitators to review the month's content
facilitate all five BRAVE sessions from 9:30am – 2:30pm (4 virtual sessions and 1 in-person session) in Spring 2024:

January 20, 2024 (via Zoom)
February 10, 2024 (via Zoom)
March 23, 2024 (via Zoom)
April 13, 2024 (via Zoom)
May 11, 2024 (in-person in St. Paul, MN)

review cohort participant reflection journals between BRAVE sessions
Cohort Facilitator Compensation:
Facilitators selected for this unique leadership opportunity will receive:
a $2000 stipend
36 Continuing Education Units (CEUs)
1 graduate credit from Minnesota State University Mankato College of Education
mentorship training and materials
experience facilitating graduate-level course work
professional leadership skills within a union framework
Deadline to apply is Friday, October 27th.
Interviews will take place virtually during the week of November 13th and final selections will be made no later than Friday, November 17th.
Program Coordinator Contact Information:
Melissa Del Rosario, Education Issues Specialist
Melissa.DelRosario@edmn.org
(651) 247-5548
Program Coordinator Office Assistant:
Elizabeth Pettersen, Education Issues Support
Elizabeth.Pettersen@edmn.org
(651) 292-4893